Commitment breakdown: Rivals100 TE Jake Johnson commits to LSU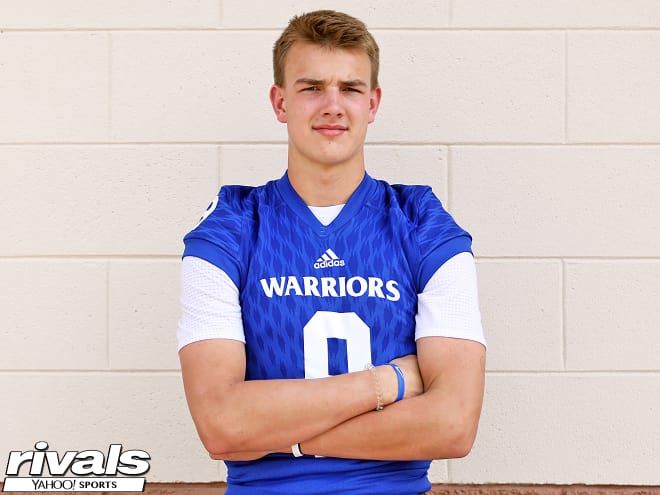 In a move that was a long time coming, Rivals100 tight end Jake Johnson announced his commitment to LSU. The Athen (Ga.) Oconee County star follows his brother, 2021 LSU quarterback signee Max Johnson, to Baton Rouge.
IN HIS OWN WORDS...
"I felt like it was a great opportunity for me to go play football and I feel like I could be used well in the LSU with coach Peetz," Johnson said. "I felt like it was a great opportunity to play at the highest level of football in the SEC West and I feel like it's a place where we can go win championships. It's a great opportunity to play with my brother (Max Johnson) as well.
"I believe I can be a mismatch at the tight end position and I can be flexed out as a wideout or slot as well," he said. "I'll be moved all over the field and coach Peetz does a great job with the offense. I believe I'll be a mismatch wherever I play on the field.
"When I was thinking about the schools, I thought LSU was where I really wanted to be whether (Arik Gilbert) was there or not," said Johnson. "The best man plays and I believe I'm going to work hard and be the best player I can be.
"I felt like I made this decision on my own, whether (Max) was there or not but it would be incredible to play with him," he said. "Having me brother be the QB and having it be 'Johnson to Johnson' would be really fun. I'm grateful for the opportunity and hopefully we can do big things.
"Every time that we visited we've seen the campus and had multiple meetings with the coaches," Johnson said. "We really made great relationships with them and they're great people to be around. That was a huge factor.
"I'll do my best to bring more players with me," he said. "We have a great upcoming 2022 class and hopefully we'll get all the great players we can get. There's a bunch of talent in Baton Rouge."
WHAT THE TIGERS ARE GETTING
Johnson is a dynamic tight end with the ability to line up as a traditional tight end or stand up like a wide receiver. He does a great job making catches over the middle and can stretch the defense to open things up for other receivers. Johnson has a huge catch radius and presents a mismatch for defensive backs because of that size but he's also a mismatch for linebackers because of his speed. He has a lot of room left in his frame to add significant mass so he can still be effective as a run blocker.
WHY IT'S BIG FOR LSU
The commitment of Johnson has to relieve the sting of the Arik Gilbert fiasco just a little bit for LSU fans. A physical, big-bodied receiving threat in the middle of the defense will really help the LSU offense return to its prolific form of just a few years ago. Look for LSU to continue building out this recruiting class with a few more offensive weapons.