Commitment Breakdown: Kentucky lands in-state ATH Shawkel Knight-Goff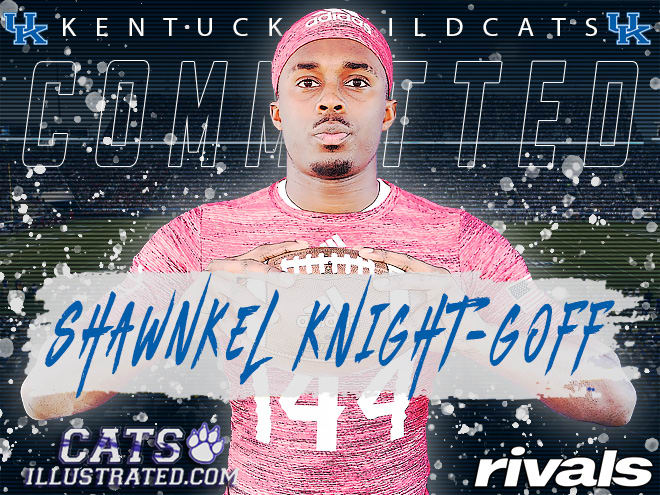 THE SITUATION
Kentucky's strong season on the field is starting to pay dividends on the recruiting trail and there's no clearer evidence of that than the commitment of three-star Louisville (Ky.) Doss defensive end/outside linebacker Shawnkel Knight-Goff. It's actually the second time this year that Knight-Goff has pledged to the 'Cats, first committing back in the spring only to quickly back off. Some thought at that time he might be staying close to home and playing for Louisville, but as it turns out, the lure of Lexington was too much for him to pass up.
WHY IT'S BIG FOR KENTUCKY
It's a big year for talent in the state of Kentucky and it's been tough for the Wildcats to gain much traction with the top in-state talent, especially with the likes of Alabama, Oregon, Stanford and others dipping into the state. So winning the battle for Knight-Goff was crucial for Kentucky and ace recruiter Vince Marrow gets credit with spearheading Knight-Goff's recruitment. But his addition isn't just big from a perception standpoint, it also could have a major impact on the field. Knight-Goff has done everything from play defensive back to defensive end and could also be a linebacker at the next level. With the way Kentucky is developing playmakers on defense, Knight-Goff's versatility and skillset should help him become an important piece of the Wildcats defense in the future.
WHY IT HURTS THE SCHOOLS THAT MISSED
There's really only one program that can really lament the loss of Knight-Goff and that's Louisville. For all the talk of Kentucky's lack of success in-state in the Class of 2019, the Cardinals are doing even worse, and hold just one commitment from an in-state player ranked as a three-star or higher. It's also worth nothing that Knight-Goff is from right in the Cardinals backyard, making the sting of his commitment to the Wildcats worse. It's been a rough season for Louisville on the field and recruiting losses close to home aren't going to help turn things around in the future.