Commitment breakdown: Georgia lands four-star TE Jaden Reddell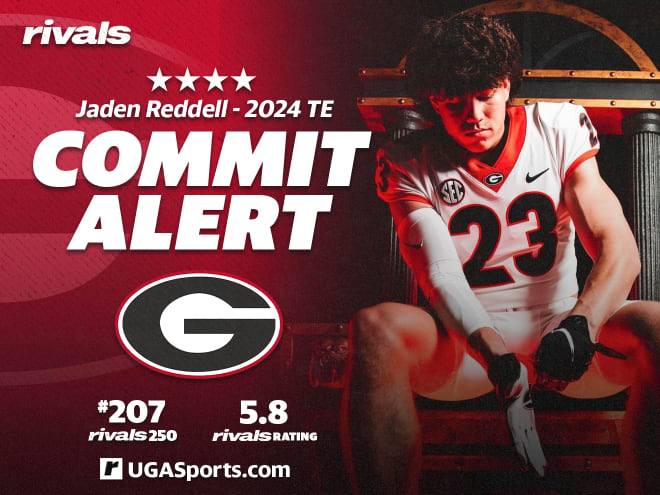 One of the nation's top tight end recruits, Jaden Reddell, shut his recruitment down early today by announcing his intentions to play for Georgia in college via twitter post. The commitment to Georgia - while not surprising - did come earlier than expected as Reddell was scheduled to take official visits to both Alabama and Tennessee prior to announcing his decision.
Reddell is the latest addition to a Georgia recruiting class that was already ranked tops in the nation prior to his pledge. He joins fellow four-star Colton Heinrich as Kirby Smart's second tight end commit in 2024 class.
WHAT THE BULLDOGS ARE GETTING...
Reddell's physical and athletic gifts make him one of the best tight ends in the 2024 class and it could be argued that he is the best overall when it comes to upside as a receiving threat. The Missouri native experienced incredible growth between his sophomore and junior seasons which vaulted him from a regional recruit to one of the nation's most sought after players regardless of position - seemingly overnight.
Although Reddell is coveted for his capabilities as a receiver and is more of a hybrid at the position right now, he has the frame to develop into a true in-line tight end once fully developed in a college weight program. This physical upside combined with his willingness as a blocker make Reddell the complete package, and even as talented as he is today, he is only scratching the surface of the player he will eventually be at Georgia and beyond.
WHY IT'S BIG FOR GEORGIA...
Georgia likes its tight ends and anytime you can go outside the region to grab one of the nation's best - it's a win in and of itself. This commitment gives Georgia a firm hold on the nation's top 2024 class and could be further proof that the "Dylan Raiola Effect" is real.
The addition of Reddell and Heinrich to an already loaded Georgia tight end room should leave the position in good hands for years to come. This is also another sign that Georgia is quickly becoming the modern day "Tight End U" with a Bulldog tight end selected in five straight NFL drafts.
This was a masterful piece of recruiting by Kirby Smart and staff as they were able to convince Reddell to shut his recruitment down prior to scheduled official visits to Alabama and Tennessee. While Georgia was considered the leader for his pledge by many - the longer this recruitment went on the more contested it would have become. Alabama and Tennessee aren't likely go away quietly, but I fully expect Reddell to honor his pledge and sign with Georgia in December.