Commitment Breakdown: Four-star RB Justin Williams to Tennessee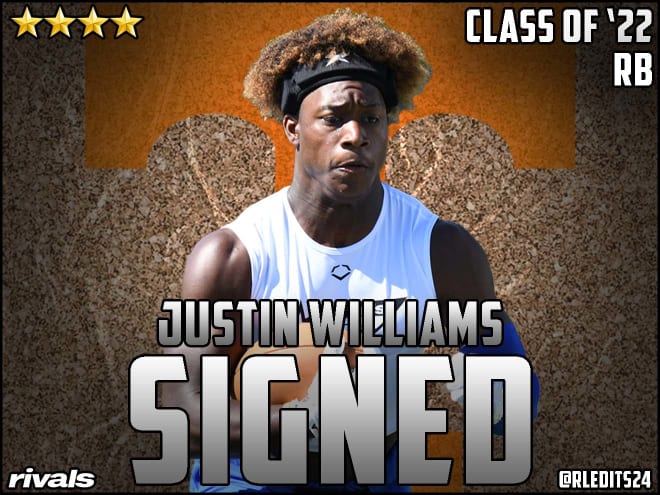 The Volunteers' 2022 class continued the climb up the team rankings list adding four-star running back Justin Williams. The all-purpose back is that combination of speed and power that is a perfect fit in head coach Josh Heupel's offensive attack.
WHAT THE VOLUNTEERS ARE GETTING
Tennessee has picked up an every down back in Williams. At 6-foot, 206 pounds, Williams is that ideally sized tailback that never has to leave the field. The last two seasons with East Paulding High School have shown Williams' abilities to pound the rock 20-plus times a game and contribute in the passing attack. How quickly Williams learns the playbook coupled with showing that he can block out of the backfield will determine how soon he sees the field… all the other elements are there.
WHAT MAKES JUSTIN WILLIAMS DIFFERENT
A nightmare scenario for any offense is to be pinned down at your 1-yard line, unless a team has a player like Williams on the roster. With Williams carrying the rock for the Raiders, even 99-yard touchdown runs are possible.
His junior season was a workhorse kind of effort going over 1,763 total yards, 1,477 rushing, scoring the rock 19 times. With all 6A Georgia defenses keying on him, he impressed again going over the 2,100-yard all-purpose milestone rushing for 1,956 yards going into the end zone 15 times.
WHY THIS IS BIG FOR TENNESSEE
Tennessee fans have a reason to be excited about the future of the program after the product displayed on the field in 2021. The Volunteer's offense averaged 38.3 points per game amassing 459 yards on average per contest. Filling the roster with Rivals250 caliber talent ensures the future of the program is going in the right direction.
Along the recruiting trail, Tennessee was able to flip the 28-offer back from West Virginia while keeping him away from Auburn.