Commitment breakdown: Four-star Jaxon Howard picks LSU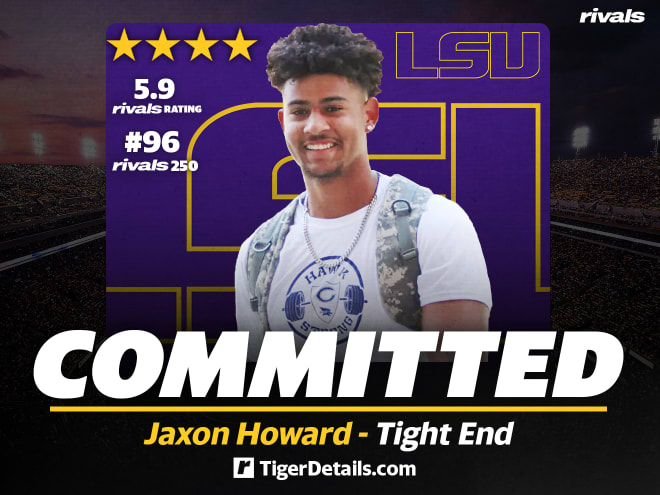 The nation's No. 96 overall recruit, Jaxon Howard, is headed south to play for LSU in college. The New Hope (MN) Robbinsdale Cooper standout revealed a final four of LSU, Miami, Michigan and Minnesota prior to announcing his pledge to the Tigers moments ago.
Howard is a special player with incredible upside and the genetics to match. His father, Willie Howard, was a star at Stanford prior to being selected in the second-round of the NFL draft by the Minnesota Vikings in 2001. Willie Howard is also the head coach at Robbinsdale Cooper where Howard has been a dominant player for years.
What the Tigers are getting:
Howard is a versatile athlete who is currently listed as a tight end recruit by Rivals but will likely start out on the defensive side of the ball at LSU. He has the size, skill and intangibles to be a difference maker at the college level, and will likely follow in his father's footsteps as a standout at the college level and beyond. Howard is a fantastic leader, gives relentless effort, and as a coach's son he understands the game like few players his age. His length, explosiveness and overall athleticism should enable him to be a contributor early in his career and his combination of size and athleticism will give him the ability to do this in a number of ways. Howard is the No. 1 overall player in Minnesota and stealing him from the upper Midwest is a big win for the LSU staff.
Why it's big for LSU:
Stealing a highly recruited athlete from Big Ten country is a big win no matter how you look at it and Howard follows Mac Markway as LSU's second four-star commit from the Midwest in the 2023 class. With his pledge, Howard also becomes the highest ranked member of a 2023 LSU class that is likely to land a number of additional commitments in the coming month. While LSU will always contend for top talent in the south, this is further proof that Brian Kelly and staff are willing to expand their recruiting footprint in order to sign the nation's top talent. With the addition of Howard, I expect other elite talent from the Midwest to follow suit, and LSU's recruiting presence in the region is beginning to apply pressure to elite teams who have typically reigned supreme in the area. Howard becomes LSU's second commit in the past eight days and his addition gives LSU much needed momentum heading into the the summer dead period.