Flip of National Signing Day: Georgia steals Pickens from Auburn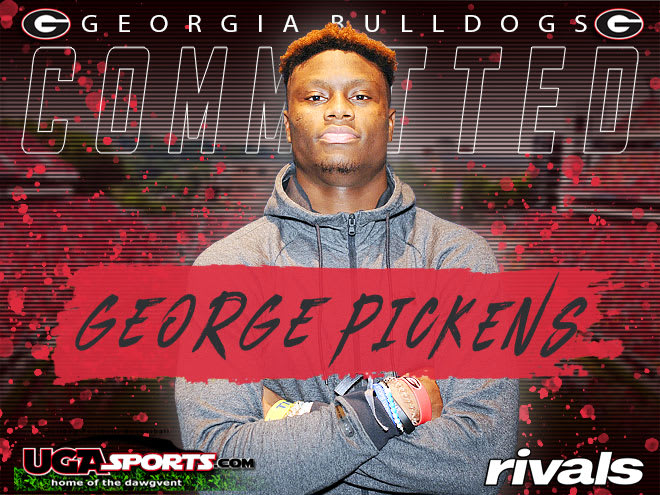 George Pickens has announced his decision and he has flipped to Georgia instead of sticking with Auburn. Did anyone really know how this was going to play out? Did Pickens even know himself Wednesday morning? This decision was made late.

The five-star wide receiver out of Hoover (Ala.) committed to Auburn in June of 2017, but he was always taking visits and talking with other schools.
To make a long story short, Pickens took official visits to Auburn, Georgia, LSU, Miami and Tennessee. There was real chatter about him flipping his commitment, but Pickens kept to himself and kept people guesing. At one time, LSU felt very good about taking Pickens away from Auburn. That was over a month ago though and a lot has changed since then.
LSU suddenly was out. The new school many were talking about was Tennessee, but Georgia had quietly been in there to meet with Pickens weekly when the recruiting calendar allowed and Miami was trying to make a move too.
Now, back up to real time. After taking his official visit to Tennessee last weekend, Pickens made a stop at Auburn before the dead period kicked in and most felt he would stay with the Tigers. That visit seemed to swing momentum back in Auburn's favor, but it didn't and Georgia swooped in and stole the five-star from the Tigers at the last minute.
Below we break down why this is a huge get for Georgia and who it stings the most.
HOW IT HELPS GEORGIA: Wow. How do you think Kirby Smart looks and feels right now? Probably has a half smile on his face. Georgia lost Jadon Haselwood late to Oklahoma and they went all in for Pickens, and it paid off. It was a debate on who the better receiver was, but either way, the Bulldogs have pulled off a huge surprise and landed one of the top playmakers in the country.
As player, not many are better this cycle. Pickens is the king of jump-balls, he plays the game hard, he is a tough match-up one-on-one and he is one who can make an immediate impact. What is scary about Pickens is that he still has plenty of room to grow. He is a lean 195 pounds and will easily add another 20 pounds or muscle to his frame. He has the ability to stretch the field and he gives quarterbacks a big window to throw to.
HOW IT HURTS AUBURN: Pickens was the first 2019 prospect to commit to Auburn. He stayed with them until the morning of National Signing Day, so this one really stings on the Plains. Auburn had to work overtime and grind it out to keep him committed, only to lose him to a rival late. Pickens committed early, but was he ever solid? He did not make it easy for the Auburn staff, but they stayed with it and deserve a lot of credit here for staying with him. There is no doubt this one really hurts at Auburn.