Commitment analysis: 5-star WR Rakim Jarrett flips from LSU to Maryland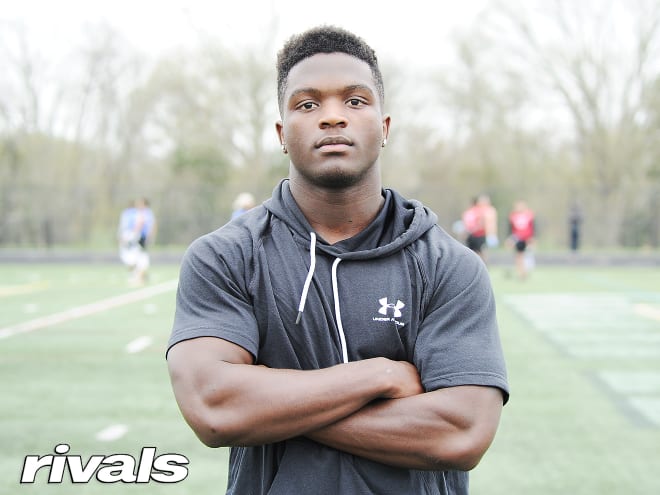 Five-star receiver Rakim Jarrett has been making headlines almost his entire high school career. The recruitment of the Washington (D.C.) St. John's College High star has been one of the major storylines of the 2020 class. A commitment to LSU in the spring caught most people by surprise and his subsequent visits to other schools have fueled speculation about where he will actually play his college career.
After an official visit to Tennessee in the early summer, it looked like the Vols had the best chance of flipping Jarrett. Their momentum died down as the offseason faded and the season began. That's exactly when Alabama began making their move with Jarrett. A member of the Crimson Tide coaching staff took in one of the St. John's games in person and communication between the coaches and Jarrett picked up the following week. His official visit for the Arkansas game was scheduled fairly quickly. After the visit there was plenty of talk that Jarrett would end up playing for the Crimson Tide but he remained patient.
Maryland got Jarrett for an official visit and the Terps began to surge. His relationship with head coach Mike Locksley has always been strong and there were some that believe he could follow in Stefon Diggs' footsteps by playing for his hometown team.
While that line of thinking quickly didn't gain much traction in the media, Locksley message resonated with Jarrett and he decided to sign with the Terps.
WHY IT'S BIG FOR MARYLAND
Nick Saban usually gets what he wants but not this time. Mike Locksley is a master at recruiting the DMV area and Jarrett seemed to be his top priority in this class. Jarrett is the headliner for Maryland in this recruiting class and immediately becomes the face of the program, much like Stefon Diggs did after his signed in the 2012 recruiting class.
With his skills as an elite route runner, Jarrett should quickly become a favorite target for Maryland's quarterbacks. He does a great job turning short passes into big gains, something Maryland's offense desperately needed this season. Jarrett already looks like like college receiver, from a physical perspective, and he should have no trouble adjusting to and breaking into Maryland's starting line up.
WHY IT HURTS ALABAMA, LSU, AND TENNESSEE
LSU has been lighting up the college football world with their explosive offense so it's a little surprising to see Jarrett flip. The quiet chatter around Jarrett has been centered around the off field atmosphere and how he might be more comfortable at a school like Alabama instead of at LSU. Losing Jarrett is far from ideal for LSU but they still have an outstanding group of receivers in this recruiting class.
Alabama thought they had Jarrett flipped but this throws a wet blanket on those hopes. Nick Saban usually gets who he wants and he set his sights on Jarrett earlier this season. The Crimson Tide's elite receiving corps will likely lose at least three top players to the NFL after this season so there would have been an opportunity for Jarrett to make an early impact.
Tennessee has been struggling this season but has looked better over the last few weeks. The coaches built a strong relationship with Jarrett but they lost momentum with him once the season hit and the Vols offense hasn't been able to get rolling.