Coming to Columbia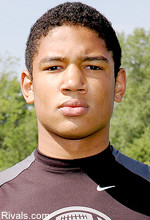 COLUMBIA, Mo. –
The first Rivals.com Junior Day for the class of 2006 will be held this weekend at the University of Missouri and it looks like it will attract many of the top players from the Midlands Region. More than 75 players have reserved a spot at the event, including players from Kansas, Missouri, Iowa, Nebraska, Illinois and Arkansas, but the headliner of the event is likely to be Rivals100 quarterback
Josh Freeman
.
Freeman, a 6-foot-6, 216-pound quarterback from Grandview, Mo., is widely regarded the top quarterback prospect in the nation's heartland. He already has scholarship offers from Iowa, Kansas, Missouri and Nebraska, and he received word on Friday that an offer from Iowa State is also in the mail.
"Iowa State called and let coach Jones know that they have mailed offering number five to Josh," Ron Freeman, Josh's father, said. "He's also getting a tremendous amount of mail now from programs like Texas A&M, Notre Dame, Virginia, Colorado, Tennessee, USC and Boston College, too.
"Josh met Dennis Franchione when he was in sixth grade and he told Josh then that he'd recruit him wherever he was at, and it looks like he found him."
But Freeman isn't the only well known name that has indicated they are attending the event.
Jeremy Maclin
of Kirkwood,
Tim Barnes
of Hughesville Pettis County,
John Clark
of Duchesne, Eric Czerniewski of Montgomery County,
Aaron Cawlfield
of Columbia Hickman, Alex Geiger of Columbia Hickman, Sean Whiters of Lee's Summit West, Derek Miller of Olathe (Kan.) East and Kevin Kinsall of O'Fallon, Ill., are a few others scheduled to attend.
The keynote speaker that Rivals.com has entrusted to help conducted the events across the nation is Joe Hornback of Des Moines (Iowa) Roosevelt. Coach Hornback was a three-year letter winner from the University of Kansas and has established himself as one of the best in the state of Iowa and previous to that in Missouri at Grandview High School.
He has coached numerous Division I players, including two players that signed with Big 12 Conference schools in the Class of 2002. He is also a veteran of the Rivals.com Junior Days and has been the main speaker at the events the previous four years. He also was recently quoted by CBS Sports as one of the nation's foremost experts in helping kids understand the recruiting process.
The event this weekend is the first Rivals.com Junior Day of the year. On March 5, the event will be at Rice University in Houston, followed by a March 12th date in Chicago, March 19th date at Louisiana State University in Baton Rouge, La., and March 26th events at Rutgers University in New Jersey and Lovejoy High School in suburban Atlanta.