College Football Playoff: Potential SEC debate taking shape
In years past, the SEC has been the only conference that had landed two teams into the College Football Playoff. This year, however, getting a second team in there might be impossible for the conference and it could lead to a debate if a couple of games play out a certain way in December.
The College Football Playoff Selection Committee revealed its second ranking of 2020 on Tuesday evening, with Alabama remaining in the top spot followed by Notre Dame, Clemson and Ohio State. However, the intrigue could involve No. 5 Texas A&M and No. 6 Florida.
College Football Playoff Ranking
| Rank | Team |
| --- | --- |
| 1. | Alabama Crimson Tide (8-0) |
| 2. | Notre Dame Fighting Irish (9-0) |
| 3. | Clemson Tigers (8-1) |
| 4. | Ohio State Buckeyes (4-0) |
| 5. | Texas A&M Aggies (6-1) |
| 6. | Florida Gators (7-1) |
| 7. | Cincinnati Bearcats (8-0) |
| 8. | Georgia Bulldogs (6-2) |
| 9. | Iowa State Cyclones (7-2) |
| 10. | Miami Hurricanes (7-1) |
Here's the scenario, barring no upsets along the way. Clemson wins a close game over Notre Dame in the rematch in the ACC championship, leaving both with one loss (to one another) and almost assuredly both a spot in the playoff.
Ohio State doesn't have any more games canceled because of COVID-19 and it wins out, looking impressive along the way. The Buckeyes would certainly be tough to drop out of the top four in that scenario.
And the last piece of this puzzle would be Florida upsetting Alabama in the SEC championship. That means Alabama, Florida and Texas A&M all finish with one loss – and one spot remains in the playoff field.
Here's where it gets really tricky: Alabama beat Texas A&M, which beat Florida, which beat Alabama (in the title game).
Three one-loss teams, all 1-1 against the other two.
Which school would the committee choose? Our local experts make the case for the teams they cover.
ALABAMA CRIMSON TIDE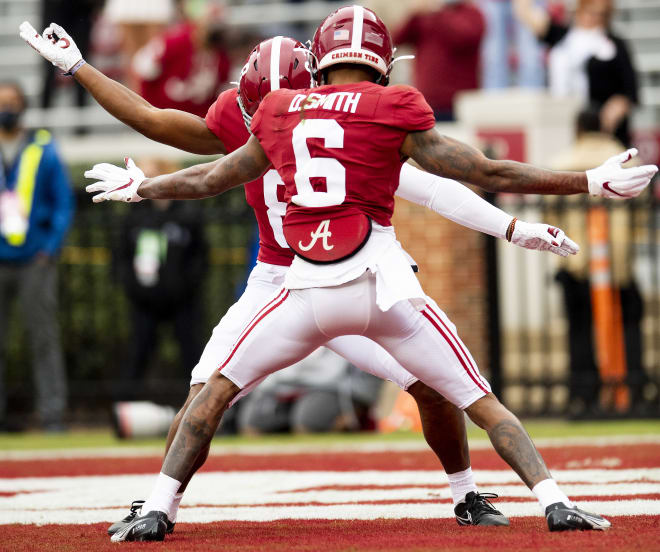 "I've seen Alabama win two national championships without even playing in the SEC Championship Game, so I'm definitely not ruling the Tide out in this scenario.
"When looking at the rest of the field, who else would the committee take?
"The absolute worst case for Alabama here is if Clemson beats Notre Dame and Ohio State cobbles up enough games to be considered seriously for the playoff. Even then, Alabama's resume would arguably be better than each of those schools.
"Alabama is the only team in the playoff with two top-10 wins. While Notre Dame's overtime victory over Clemson might be the best win on the board, Alabama's wins over No. 5 Texas A&M and No. 8 Georgia carry more weight.
"And let's not even get started on the resume Ohio State will bring to the table." – Tony Tsoukalas, BamaInsider.com
*****
FLORIDA GATORS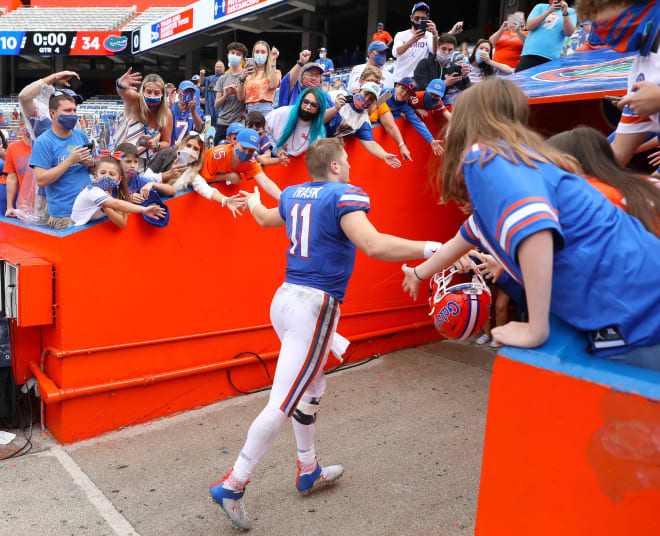 "I think Florida controls their own destiny, especially after beating Georgia because now they're atop the SEC East. As long as Florida wins out, beating Tennessee, LSU and Alabama, they should control their own destiny based off where they are right now.
"Texas A&M is ahead of them right now and I agree with that because of the head-to-head matchup earlier in the season. If Florida could somehow beat Alabama, it's hard to deny them a playoff spot.
"Kyle Trask has been good all season and has blown up on the national stage. Obviously he's a Heisman Trophy finalist. Florida's offense is more well-rounded now. They have a few more running backs that are more involved, Trevon Grimes has stepped up his play, Kadarius Toney has turned into a more well-rounded receiver. With Kyle Pitts, we all knew he was going to be a big-time playmaker this year but no one knew how good he was going to be.
"Florida can almost outscore any offense, other than Alabama. Florida's defense is really going to be the key if they can keep a lot of points off the board. Against Alabama that's really hard and might be the part that swings it more in Alabama's favor." – Corey Bender, GatorsTerritory.com
SHARE YOUR THOUGHTS WITH FLORIDA FANS AT GATORSTERRITORY.COM
*****
TEXAS A&M AGGIES
"If Alabama were to lose to Florida, the Crimson Tide would get a whole lot of angry text messages, tweets and anything else that can be transmitted from College Station, Texas to Tuscaloosa. A loss to Florida would do tremendous damage to Texas A&M's playoff hopes, as it's likely the Gators and Alabama would then be in the CFP.
"A&M can still make an argument, should they go 9-1: They would be one of the nation's hottest teams, winning eight straight; they have one of the nation's best defenses and, most importantly, they beat Florida.
"In fact, they'd be the only team to stick around against the Gators. The Aggies ran all over them, rallied in impressive fashion and forced the needed turnover to win the game. The body of work will still be strong, because they would have finished with two additional SEC road wins (at Auburn and Tennessee) to finish 9-1.
"Oh, and they beat Florida." – Mark Passwaters, AggieYell.com