College Fantasy Football: LSU-Alabama QB matchup
Top-ranked LSU visits No. 2 Alabama in a huge SEC showdown and the best college football matchup so far this season on Saturday afternoon. Here is a fantasy breakdown by position starting today with quarterback.
JOE BURROW, LSU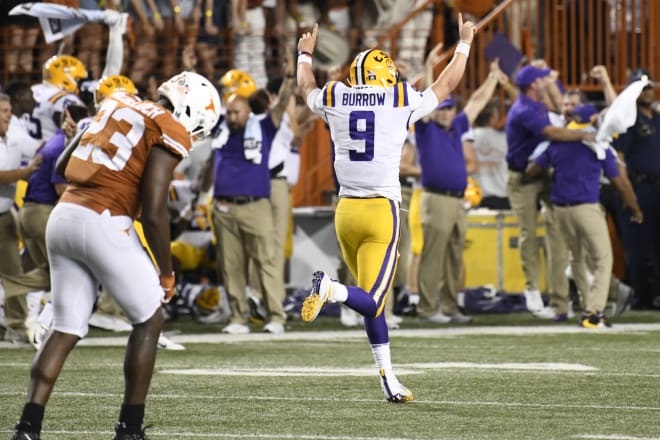 Joe Burrow is having arguably the best overall season of any quarterback in the country as LSU has unleashed its playmakers and he's putting up huge numbers along the way. Second to only Oklahoma's Jalen Hurts in fantasy points, Burrow has thrown for 2,805 yards with 30 touchdowns and four interceptions, and he's also rushed for three scores.
The Tigers have an abundance of talented receivers for Burrow to target as well. Four players have 20 or more catches. Justin Jefferson and Ja'Marr Chase are the top two targets and each has nine touchdown receptions. Burrow is completing nearly 79 percent of his passes.
LSU's offense has been humming this season but it has not faced a defense like that of Alabama yet. Bama is giving up just 15.2 points per game and is led by a bunch of former five-stars in the secondary. Still, the LSU offense has been largely unstoppable this season – putting up 45 against Texas and 42 against Florida – but there might be a bit of concern that the Tigers scored only 23 against Auburn.
*****
TUA TAGOVAILOA & MAC JONES, ALABAMA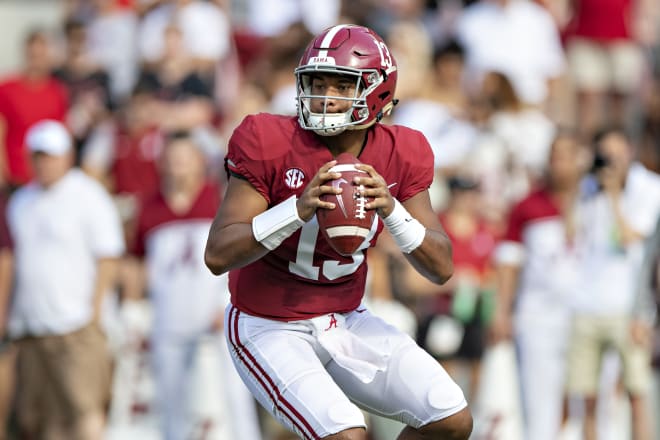 Despite missing a game because of a high ankle sprain, Tua Tagovailoa still ranks ninth in fantasy points among quarterbacks. He's thrown for 2,166 yards with 27 touchdowns and two picks and he's also rushed for two scores. He's targeting a return for the LSU game this weekend but we will have to monitor all week to see how his ankle is improving.
The former four-star quarterback is also helped out majorly by arguably the best receiving corps in the country led by Jerry Jeudy, DeVonta Smith, Henry Ruggs and Jaylen Waddle but the Crimson Tide have not seen a secondary like LSU's yet this season.
If Tagovailoa cannot go then Mac Jones would get the start. He was outstanding in a 48-7 win over Arkansas in which he threw for 235 yards and two touchdowns but it was against the woeful Razorbacks. In replacement duty against Tennessee, Jones threw three touchdowns.
From a fantasy perspective, Jones is owned in only 3 percent of leagues so if Tagovailoa's progress this week is slowed and you still want to start the Alabama quarterback this week, there's a good chance you can pick Jones up in most leagues.
*****
FANTASY ADVANTAGE: LSU
This is not a prediction on the outcome of the game and from a fantasy perspective, we're hoping for a shootout of outstanding offenses because that benefits both quarterbacks. But we're leaning slightly toward Burrow here because he has put up tremendous numbers all season, beating Tagovailoa anyway, and the uncertainty around Tagovailoa's injury is concerning.
It's highly unlikely we're getting any clarity this week from coach Nick Saban on just how ready – or not ready – Tagovailoa will be for Saturday afternoon. My guess is he probably plays but won't be 100 percent. If he does go, he's an automatic start because Alabama's receiving corps is so loaded. But as it stands now on Monday, Burrow and LSU's offense have a slight advantage here.
*****