College Fantasy Football: Five fades in the Big 12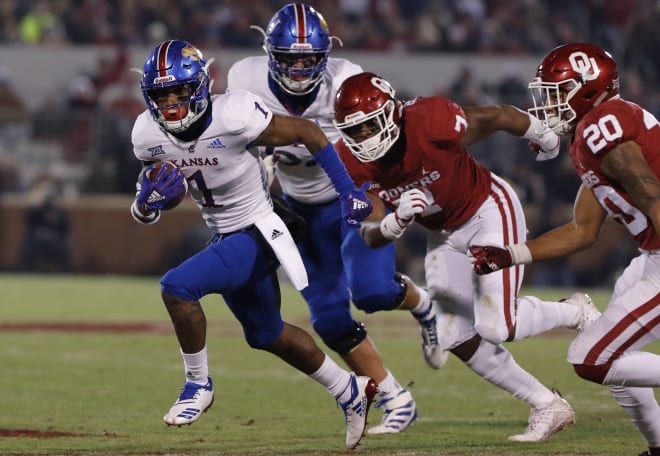 *****
1. KEAONTAY INGRAM
There is a chance – a pretty good chance actually – that Ingram has a monster season and that I'm completely wrong here. However, here are some things to consider: Sam Ehlinger might not take as many hits as last season but he is still a running quarterback who creates with his feet. Last season he had 164 carries and 16 rushing touchdowns. Even if those numbers are drastically reduced, Ehlinger is still going to have the ball a lot.
Ingram should have better numbers but he did only have three rushing scores a year ago and now Jordan Whittington is added to the backfield. He's a game-breaker and Texas also has a lot of highly-skilled receivers who can go deep. Ingram will be used more but looking nationally there are running backs who should put up much better numbers.
*****
2. OKLAHOMA'S DEFENSE
I believe in Oklahoma. I believe in new defensive coordinator Alex Grinch. But I also believe the Sooners had the worst pass defense in college football last year and there is a ton of improvement to be worth picking in fantasy leagues. There are a lot of returning players and it sure seems like Grinch has the team focused on defense now – so Oklahoma could easily be back in the playoff discussion, but there is still a ways to go until the Sooners are considered a shutdown defense in any way.
*****
3. BROCK PURDY
Purdy is a really talented quarterback who helped save Iowa State's season a year ago but I question how he's going to do with the loss of star receiver Hakeem Butler and outstanding running back David Montgomery. Butler had 60 catches for 1,318 yards and nine touchdowns last season and no other receiver came close to those numbers. Even with Butler, Purdy only threw 16 touchdown passes so it's not going to be easy heading into this season.
*****
4. TCU'S QUARTERBACK(S)
TCU has a bunch of talented quarterbacks and a fantasy dream receiver in Jalen Reagor along with two quality running backs. But from a fantasy perspective that could be precisely the problem. It looks like Alex Delton will win the starting job but hotshot freshman Max Duggan is right there as well and Rivals100 quarterback Justin Rogers coming off injury. There is just no clarity on who is going to be playing quarterback over the long haul for the Horned Frogs. Also consider Sewo Olonilua and Darius Anderson combined for 259 carries last season and they could split more this season. This one falls in the 'Too Hard To Figure Out' category.
*****
5. POOKA WILLIAMS
Williams could very well be one of the best running backs in the Big 12 but there's also a good possibility he doesn't live up to expectations after performing so well last season. First, Williams is coming off a seven-month suspension following a domestic battery arrest. He will also miss the season opener against Indiana State, a prime opportunity to pad his fantasy stats.
I know coach Les Miles ran the ball a lot at LSU but the Jayhawks brought in some talented JUCOs who could be used and the workload could be taken off Williams a little bit. If Williams returns and looks like his old self, then picking him up wouldn't be a bad idea but there are some unknowns here.