Colerain, Brookhaven top talent wins Ohio titles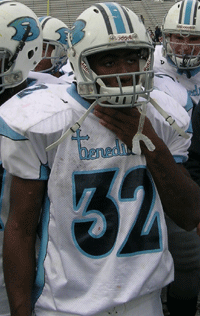 Linebacker
Alex Daniels
transferred to Columbus Brookhaven for his senior season to win a state championship. On Friday night, Daniels, who is expected to choose either Oklahoma or Ohio State for college, achieved his high school goal.
Daniels had two rushing touchdowns from the fullback slot and played an extraordinary game at linebacker, leading a dominant Brookhaven defense.
"We tried to hit them in the mouth tonight," Daniels said. "We were trying to stick it to them early, and then we were just able to adjust. It hasn't really sunk in yet, but when it does it will feel really good."
Daniels got defensive help from
Dominic Jones
and
Keith Massey
, who combined to form a swarming, scheming secondary. Jones, who has committed to Pittsburgh, finished with seven total tackles, two passes broken up and an interception which he returned 34 yards. He also rushed for 29 yards and caught a pass for a 10-yard gain.
Massey also excelled on defense, finishing with four tackles. He played a key role in shutting down Avon Lake's star receiver, Iowa commit
Trey Stross
, who scored two touchdowns despite Massey's blanketing defense. Massey has upcoming official visits to Minnesota and Pittsburgh and also holds scholarship offers from Michigan State, Purdue and Wisconsin.
Idris Lawrence
helped Brookhaven control the game's tempo on offense, an important factor when playing against Avon Lake's quick-strike passing attack. Lawrence, who is considered a cornerback prospect, broke a number of tackles on his runs, showing his power and knack for making a big play. He has scholarship offers from Cincinnati, Duke, West Virginia and Pittsburgh, though he has yet to plan any official visits.
Jones was the biggest factor in Brookhaven's win, however, energizing his team with punishing hits from the safety spot and running for an important first down on a fake punt.
RECEIVERS SHINE IN AVON LAKE LOSS
Despite falling short of the Division II title, Avon Lake's star senior receivers showed that they have a bright college future ahead of them.
Stross was held to three catches for 39 yards because of Massey's tenacious defense, but he still managed to make Avon's two biggest plays, long touchdown grabs to ignite rallies. Stross also punted well, averaging 38.4 yards.
Indiana pledge
Andrew Means
had an impressive game as well. He had three receptions for 62 yards in the game, including a catch that propelled a key first half drive to keep Avon in the game. He picked Indiana over offers from Pittsburgh and Miami (Ohio).
MOONEY STARS LIGHT UP DIVISION IV
In the Division IV game, Youngstown (Ohio) Cardinal Mooney quarterback
Kyle McCarthy
, who has scholarship offers from Arizona, Kent and Navy, pulled off a unique trifecta of scores to lead Mooney to the state title.
The dual-threat quarterback ran for a touchdown, threw for another and returned an interception for a third, pushing Mooney past Versailles 28-6. McCarthy has yet to declare a recruiting leader and has a number of Big Ten schools interested in him. Still, many point to Arizona, coached by Cardinal Mooney alum Mike Stoops, as having an edge. Stoops older brother Ron is also Mooney's defensive coordinator.
McCarthy got some help with excellent blocking upfront by
Rick Solak
. The offensive line prospect likes Boston College, Cincinnati, Indiana, Maryland, Michigan State, Notre Dame, Ohio State and Virginia and is still shaking out aspects of his recruiting. Solak was the leader of both the offensive and defensive line, setting up mostly at tackle.
In the title game for the state's smallest schools, Dola Hardin Northern used strong games from seniors Scott Albert and Damien Plaugher to knock off Norwalk St. Paul. Albert's 6-foot-7 frame was too much for St. Paul to handle on either line, and he and the 6-foot-4 Plaugher wore down St. Paul to help Hardin Northern overcome an early 7-0 deficit.
UNDER THE RADAR
Junior quarterback Michael McGee looked strong for Brookhaven in its Division II title victory. He finished with 88 yards and a touchdown, and his elusiveness held the Avon Lake pass rush to a single sack in the game.
Junior fullback Sean Murello played an impressive game for Avon Lake in a losing cause. He was Avon's leading receiver with 5 catches for 43 yards and did a good job in pass blocking and of lead blocking for Avon's running game.
Cardinal Mooney junior running back Nate Burney proved that he could be a legitimate top college prospect in the Division IV game. He finished with 120 yards on only 19 carries, and his ability to push through tackles killed Versailles down the stretch.
COLERAIN CRUISES TO DI CROWN
On Saturday night, Cincinnati Colerain showed why its ranked No. 5 in the nation by USA Today: The Cards have six of the nation's top prospects.
Quarterback Dominick Goodman set an Ohio Division I rushing record with 259 yards and tied the record for scores in the game with four touchdowns. Goodman, who has committed to Division II Findlay to play basketball, spurned early interest from a number of schools that wanted him to play football in order to pursue his first love in college. After the game he reflected on the season and his school's first title after being named the game's MVP.
"I didn't even know that there was an MVP," Goodman said. "I thought everyone was our MVP tonight. Our fans were. They came a long way for this."
Colerain fans, who packed Canton Fawcett Stadium's home bleachers, spent much of the game cheering for Michigan pledge
Mister Simpson
, who finished with 105 yards and a touchdown on 23 carries. Despite two fumbles that allowed Canton McKinley to stay in the game early, Simpson's tank-like running style ground down the McKinley defense en route to the 50-10 rout.
"I'm just real emotional right now," Simpson said. "This was my last senior game, and I'm just thinking back on it all before moving on."
The Colerain defense was equally impressive, highlighted by four top prospects. The Byrd brothers, defensive linemen Tirddell and
Terrill Byrd
, ruled the line of scrimmage all night. Terrill, who has scholarship offers from Cincinnati, Minnesota, Bowling Green, Kent and Toledo shut down the run game, while Tirddell had a number of quarterback pressures.
The game's biggest defensive star was linebacker
Andre Revels
, who played like a man possessed, making tackles all over the field. Revels has received serious interest from Michigan and Indiana and led Colerain in tackles for the third consecutive year in 2004. Defensive back
Brayden Coombs
also had a big impact. He played strong in run defense, locked down star McKinley receiver Brad Jones and was close to breaking open a number of kick returns. Coombs has interest from Cincinnati, Stanford, Vanderbilt, Bowling Green and Kent, among others.
McKINELY STARS STAND OUT IN LOSS
While they were beaten badly on the scoreboard, a number of Canton McKinley stars proved to be legitimate prospects on the field. Running back
Ryan Brinson
provided the game's high point for Canton when he scored on an impressive 56-yard run, giving Canton a 10-6 lead. Brinson has planned visits to Indiana and Iowa and also has offers from West Virginia, Wisconsin and a number of MAC schools.
Still, he may also be waiting to see how Ohio State's running back recruiting shakes out. The Buckeyes have shown interest in Brinson, and he would definitely be interested in heading to Columbus. At 5-foot-9 he doesn't fit into Ohio State's "big back" model. McKinley coach Ryan Cross told the Canton Repository that OSU's interest and recruiting efforts have been steadily increasing, but Brinson is probably at the mercy of the school choices made by Ohio State's four targeted runners.
McKinley quarterback
Mike Shaffer
is also a prospect on the rise, considering Duke and Virginia, as well as other top academic institutions. He is a strong student, carrying a 4.0 GPA at McKinley, and could end up at an Ivy League school. Amidst constant defensive pressure, Shaffer completed 9-of-16 passes for 70 yards. Two of Shaffer's favorite targets are also hot recruits.
Brad Jones
, who has committed to Cincinnati as a safety, caught a pass for nine yards while
Antwon Hight
, a tight end and defensive end, was forced to focus on blocking. Hight is considering West Virginia, Cincinnati, Kentucky, Syracuse, Ohio State and Pittsburgh.
SMALLER DIVISION GAMES SHOWCASE YOUTH
While featuring less star power, the Division III and V games showed some impressive talent and the spirit that makes Ohio high school football great.
Cleveland Benedictine won its second straight Division III title behind junior tight end/defensive lineman Stephen Munn and junior wide receiver and linebacker Jon Dunn.
"We've been fighting for this all year and we knew we'd get here," Dunn said.
Dunn had two catches for 38 yards and was all over the field on defense. He and Munn both threw a number of impressive blocks as well.
Benedictine's offense hit its stride behind a junior twin-engine rushing attack. Jahmal Brown had some head-turning runs and finished with 139 yards and a touchdown on 22 carries. His backfield tag team with Troy Huddleston was the story of the game, as Huddleston finished with 81 yards and a touchdown on his eight carries.
In the afternoon's Division V game, St. Henry used strong performances from 6-foot-5 senior quarterback Nathan Stahl and senior linebacker Ross Niekamp to knock off Amanda Clearcreek. Stahl finished 12-of-22 for 174 yards and a touchdown.
"It really hasn't sunk in yet," Stahl said. "This is all so great right now. We knew we had something special."
St. Henry is known for producing Ohio State quarterbacks, including Ryan Uhlenhake and Bobby and Tommy Hoying. Though Stahl seems less likely to end up in garnet and grey than his predecessors, it would be no surprise if he is a contributor at a smaller school.
UNDER THE RADAR
Amidst all the hoopla over Colerain's outstanding senior prospects, many have overlooked junior running back Terrence Sherrer. The young runner has come on in support of Simpson this year, and he finished the title game with 85 yards and two touchdowns on nine carries. He showed some dazzling moves on his longer runs and had a great burst through the middle. He appeared significantly more versatile than Simpson in the Colerain backfield.
While Benedictine's squad of starting juniors is headlined by position players, they may be obscuring a special teams star with a bright future. Junior kicker Alex Stigerwald connected on field goal tries from 35 and 33 yards, and both kicks were made into severe swirling winds. He was also booting kickoffs of over 60 yards throughout the game, including one that nearly split the uprights.
Junior defensive end Toby Boeckman was a star on the line for St. Henry in the Class V game. He used his well-built, 6-foot-7 frame to shut down the run and deflect a number of Amanda Clearcreek passes.