Coaches break down Daelin Hayes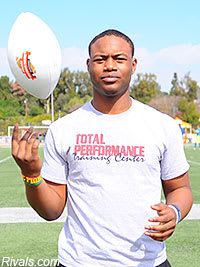 Five-star linebacker
Daelin Hayes
has been one of the more controversial prospects in the 2016 class, but the two coaches who have worked with him most over the last year have nothing but praise for
Notre Dame
's newest commit.
Ann Arbor (Mich.) Skyline head coach Chan Brock has been directly coaching Hayes since he transferred to Skyline in the middle of his junior year. Ranked as the No. 21 player in the 2016 class, part of Hayes' appeal to college coaches is how well-rounded he is, according to Brock.
"Not only is he one of the classiest kids I've ever been around, he's a great player," Brock said. "People see that he hasn't played X amount of snaps… but the thing that is really important in evaluating is he checks all the boxes, with the character and academic boxes being first and foremost.
"Oh, by the way, he is 6-4, 240 pounds, probably runs a sub-4.7, is a natural bender and tremendously position versatile."
The argument against Hayes is that he played just three games in each of his final two prep seasons. His junior year was cut short after he had to transfer from California back to Michigan and he shut it down after three games of his senior season due to a shoulder injury, but Brock is convinced Hayes has a bright future at the college level.
"We had a chance to get a glimpse of what the possibilities are," Brock said. "Now, he'll go and get a chance to be on a Division I strength program and training table, with their doctors and their rehab and he'll stay healthy. People will get a chance to see what type of player he really is."
Daryl Graham of DGA Training is Hayes' personal trainer and has worked with the five-star extensively during the off-season. He notes that few can appreciate what Hayes does when the lights are not on.
"His work ethic is by far one of the best I've been around since I've been training and coaching," Graham said. "His maturity and focus has also been one of the best. He set the standard for a student-athlete in our community as far as handling everything on and off the field and with the media. I think he has been one of the best guys who's done it so far."
In Hayes, Notre Dame is getting one of the highest-ranked recruits in the 2016 class, but they may also be getting a strong, positive addition to their locker room.
"He's a coach's dream. He wants to be coached, he wants to be great," Brock said. "It was fun for us to coach him and have him this year because. With his talent, his ability and his accolades, he has that absolute hunger to grow and get better and get coached."
One of the attractions to Notre Dame for Hayes was the regular comparisons made between he and 2015 Butkus Award winner
Jaylon Smith
. Both players have a similar degree of athleticism for the linebacker position, which Graham noticed when he first started working with Hayes.
"Flexibility, lateral movement, hand-eye coordination - I was like, this kid is a freak," Graham said. "He's been blessed with some great athletic abilities and athletic genes from his parents."
Delivering on that promise is the next step for Hayes, and he will begin that journey soon with enrollment at Notre Dame scheduled for January.
"I really think he is going to be successful at the college level just because he is mentally tough, been well prepared and he's driven and focused," Graham said. "Him going to college is just adapting to the non-stop grind. That's not anything he can't handle, but just adjusting to everything that is going to be thrown at him, especially going in as a mid-year kid."
Hayes has been outstanding on the off-season camp circuit, winning Position MVP honors at two different Rivals Camp Series events over the past couple years and, according to his coaches, the excellence Hayes has demonstrated in camps translates to the football field quite nicely.

Click
Here
to view this Link.