Class of 2019: Star rankings revealed for 20 more prospects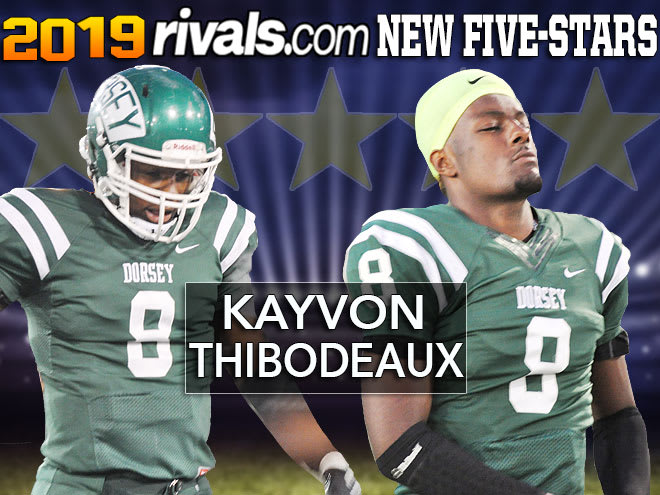 While the focus of most is the class of 2018 as we dive deep into the spring evaluation period, members of the class of 2019 are getting offers as well on a daily basis. Rather than rush out a Rivals100 on prospects who have played two years of high school football, we thought we'd put stars on 100 of them and release 20 a day. Here's our third batch, led by five-star defensive end Kayvon Thibodeaux.
The prospects listed are grouped by their Rivals Rating from 6.1 to 5.9 but are in no particular order otherwise.
RELATED: Monday's 20 | Tuesday's 20 | Rivals100 for 2018
"The first time I saw Thibodeaux in person was during a 7-on-7 tournament at his high school and he was playing tight end. He was super athletic, moved well and looked phenomenal on the hoof. He reminded me of an SEC-looking defensive end," said Rivals.com National Recruiting Analyst Adam Gorney. "He's great off the edge, great in space, developing physically and he can get into the backfield at will. With his hand down or as a hybrid linebacker/defensive end, Thibodeaux makes plays all over the field and he has the physical size to blow everybody away. He remains wide open in his recruitment, but USC and others could stand out."
Just behind Thibodeaux in this group are an offensive lineman, two wide receivers and a quarterback.
Baton Rouge (La.) Southern Lab guard Kardell Thomas may need to drop some bad weight and re-shape his body a bit, but you can't argue with his domination of everyone he goes against on the field and in camps. The LSU commitment just likes to destroy people and reminds me a bit of a taller Andre Smith from back in the day.
"An early LSU commit, Thomas has spent the offseason making the rounds on social media with viral and violent rep wins at various camps," said Rivals.com Southeast Recruiting Analyst Woody Wommack. "While it's rare for a guard to be ranked this high this early, Thomas is special talent and the type of player who still has a ton of room to develop."
Wide receivers Dominick Blaylock and Maurice Goolsby are two completely different wide receivers for 2019, but each brings so much to the table.
Blaylock, from Marietta (Ga.) Walton is a shifty slot receiver with speed to burn with offers from everyone and boasts a top five of Georgia, Clemson, Auburn, Ohio State and UCLA.
"Blaylock is a smooth athlete who plays the wide receiver position with grace. It never looks like he is working hard because it is so natural and easy to him," said Rivals.com Southeast Recruiting Analyst Chad Simmons. "He is very smooth in and out of his breaks, he is great at setting defensive backs up on moves and he is mature as a player for his age. He is likely going to be a slot on the next level, but he can work the outside as well."
Meanwhile, Gooslby is a tall, angular wide receiver with the frame of a tight end. The Florida Gators currently lead over offers from Florida State, North Carolina and others.
"Goolsby has incredible size and has been a recruiting commodity for a full year already," said Rivals.com Florida Recruiting Analyst Rob Cassidy. "He's the rare blend of size and speed that translates well for wide receivers."
At quarterback, Houston (Texas) St. Pius X quarterback Grant Gunnell has impressed us early and has visits planned to Nebraska, Oklahoma State, Arkansas and Florida State.
"Gunnell's height and smooth delivery make him the early favorite for top quarterback in Texas," said Rivals.com Texas Recruiting Analyst Nick Krueger. "He makes clean passes at all distances and showed last season he's capable of putting up huge numbers game-in and game-out."
Offensive lineman Caedan Wallace from Princeton (N.J.) The Hun School is another player in this group to keep an eye on.
"Wallace is a big-bodied lineman that could play guard or tackle at the next level. He has the width of a guard but quick enough feet to play tackle at some schools," said Rivals.com Mid-Atlantic Recruiting Analyst Adam Friedman. "Wallace does a good job of driving his feet on contact and using his hands to control defensive linemen. Penn State has made Wallace feel like a priority but watch out for Notre Dame if the Irish offer."
Heading out west, the name Matthew Pola-Mao should be familiar to some who follow recruiting and the Phoenix (Ariz.) Mountain Pointe program. The big defensive tackle learned about the recruiting process the last couple of years from his brother.
"Pola-Mao is a tough, physical defensive tackle with almost no bad weight who lives in the backfield, loves to slam players to the ground and can also move surprisingly well for someone his size," said Gorney. "He's quick off the snap, has violent hands and can get off the blocks to make plays all the time. His brother, Isaiah, signed with USC last recruiting cycle and that could play a big role in Pola-Mao's recruitment as well."
Finally rounding out the group of players we'll talk about in this batch is another defensive tackle in Cincinnati (Ohio) Walnut Hills standout Jowon Briggs who has offers from Ohio State, Michigan, Notre Dame and others early.
"What immediately jumps off film about Briggs is his explosive first step, and that attribute is among the most highly coveted for defensive tackles," said Rivals.com Midwest Recruiting Analyst Josh Helmholdt. "He has good size at 6-foot-3 and 275 pounds and a high football IQ, which combined with that first step result in a high, early rating."
Here are the others that made the initial 20 for today's release…