Chambers sets first official visit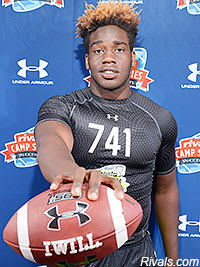 One thing he is ready to announce is his first official visit. He has scheduled his first trip and it will take him to the Pac-12.
He will visit Tempe the weekend of November 20, when the Sun Devils host in-state and Pac-12 rival Arizona.
The trip to Arizona State may be the first to be scheduled, but he does have a few more official visits in mind.
Chambers is currently ranked No. 178 in the Rivals250, No. 13 among the nation's 2016 strongside defensive ends, and No. 21 in the Rivals.com Preseason Texas Top 100 for 2016.