Cassidy's Takeaways: Recruiting whispers from adidas 3SSB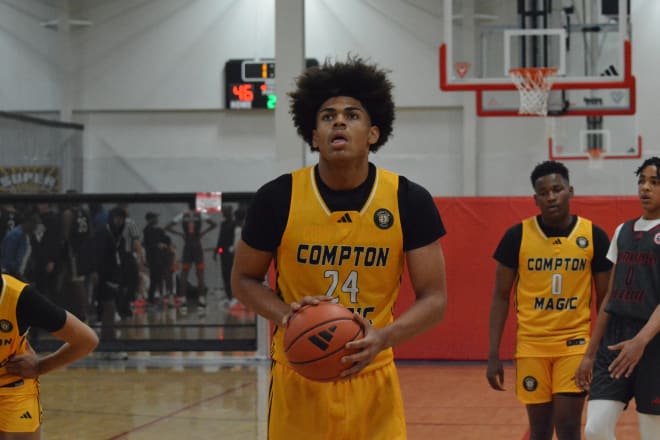 COUNCIL BLUFFS, Iowa – The opening night of 2023 first recruiting live period is in the books, and Rivals national analyst Rob Cassidy spent it taking in the action at adidas 3SSB outside of Omaha.
There were plenty of highly regarded prospects in the building on Friday night, and Cassidy picked many of their brains about where the recruitments stand. Below are news and notes on some of top prospects that took the floor on the first day of the shoe company-sponsored event.
FIVE-STAR KOA PEAT TALKS NEBRASKA VISIT, KENTUCKY INTEREST 
The No. 3 prospect in the class of 2025, Koa Peat is all of 6-foot-8, 220 pounds and is developing from a skill perspective just as quickly as he is from a physical one. The five-star forward will tell you that he's more focused on improving his game than he is on his recruitment for the time being, but there are at least a few newsworthy items when it comes to his process.
First, Peat is scheduled to visit Nebraska starting Sunday night. The Huskers' Lincoln-based campus is less than an hour away from the arena that's hosting the weekend's 3SSB event, so the trip is based, at least partially, on convenience. Still, it's not as though there isn't a larger reason. Family ties are strong bonds after all.
"My brother (Todd Peat) actually played football at Nebraska, so I've been there before," Peat said. "I was super young, but I've been. He hasn't told me too much about it yet, but we'll talk about it."
Peat said he has some semblance of early interest in the Nebraska program but mostly shied away from discussing colleges this early in the process. He did, however, notice college coaches, including Kentucky's John Calipari, sitting courtside during a Friday night contest that saw the five-star score 29 points in a victory.
"Yeah, I saw him over there and that kind of motivated me to play hard," Peat said of the Kentucky head coach. "I know I'm always motivated to play hard even when nobody's in the gym, but I saw him for sure."
According to Peat, he's had some limited preliminary contact with Calipari and his staff in the past. The Wildcats call to check in on through his coach from time to time, but an official offer is yet to arrive.
An Arizona product, Peat has already visited both in-state programs and has relationships with both coaching staffs but says he's focused on his development more than his recruitment for the time being.
"I have a good relationship with [Arizona head coach], Tommy Lloyd." Peat said. "He's a cool, fun guy. It seems like they have a real brotherhood there at Arizona. I've been to a football game there, but I haven't taken a real visit."
*****
VJ EDGECOMBE TALKS INVOLVED SCHOOLS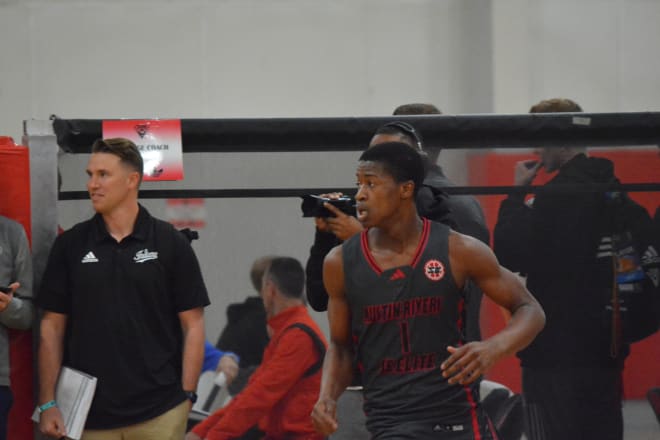 V.J. Edgecombe broke out as a junior at Long Island Lutheran High School this season, going from largely unknown to the No. 49 prospect in the class of 2024. Edgecombe is yet to finalize plans for any official visits, but reading between the lines of a Friday conversation reveals that Mississippi State, Ohio State and Villanova are in the thick of the mix to get the four-star wing on campus.
"I talk to Ohio State a lot," Edgecombe said. "Same with Mississippi State and Villanova. At Ohio State they think I would fit in and they want me to come see Columbus. They think it would be a good home for me. I haven't told them I'm going to visit for sure or anything, but I'm considering it for sure."
Edgecombe also mentioned that Mississippi State was responsible for his first scholarship offers, which seems to mean a lot to the in-demand junior. He mentioned his long-standing relationship with head coach Chris Jans and assistant David Anwar. So while he has not yet decided on a travel schedule, Edgecombe seems interested in seeing Starkville.
*****
FLORIDA, INDIANA, TEXAS IN MIX TO GET VISITS  FROM MIKEL BROWN 
Mikel Brown's recruitment is still in its infancy. The class of 2025 prospect is starting to form opinions, however. On Friday, he mentioned programs such as Kansas State, Texas, Indiana, Florida and Florida State as programs that have managed to pique his interest in the early stages of his process.
The sophomore point guard hasn't given much thought to visits as of yet, but knows that in-state Florida is a place he'd like to tour down the road.
"As of now, I want to get to Florida," Brown said on Friday. "I'll get to Florida soon. That's home. It's close Then, like Texas and Indiana are other ones. I'm not looking that far into it right now, but those are just the ones that come to mind."
*****
RELATIONSHIP BETWEEN PURDUE AND LEGACY RECRUIT HEATING UP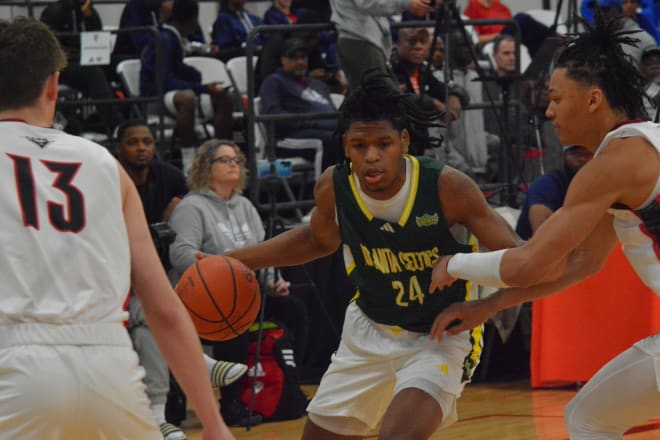 The son of former Purdue star Glenn Robinson, Gicarri Harris has been a Boilermaker target for more than a year now. Purdue coaches were on hand on Friday night to watch the Georgia-based guard play for the Atlanta Celtics.
Following the game, Harris discussed where things stand between him and his father's alma mater.
"I'm really tight with them," he said of the Boilermaker coaches. "I talk to them at least two times a week, so things are great there. I visited there. It was great. I got to see a football game, one of their practices and everything they have to offer."
Stanford, which Harris visited last year, feels like the biggest threat to steal his commitment from the Boilermakers, while Georgia and LSU are also in play to differing extents.