California star watches ND and OSU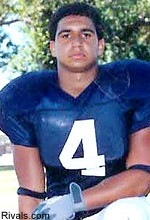 "I still have two official visits," Chino, Calif., defensive back
Shawn Oatis
said. "I go to Notre Dame Oct. 8 and Ohio State Oct. 22."
"I'm in the process of setting up visits to Arizona and Oregon. I don't know who the fifth visit will be. Possibly Oklahoma. Maybe Oregon State. UCLA is in there too. I might just go to one of their games."
"All of them except Oklahoma have offered me a scholarship. They all call every week. I don't have a favorite."
"I saw the Notre Dame-Michigan State game on T.V. I thought Notre Dame did well. They got the win. They look like they're coming up."
"I watched part of the Ohio State-North Carolina State game. It was a solid performance. Ohio State looked prepared."
The 6-foot-0 and 205 pound Oatis made 69 tackles and intercepted two passes while also rushing for 1300 yards during his junior season. Chino has won their first two games this season by wide margins so Oatis has not had to play extensively. He has two sacks and 50 yards rushing.
Oatis is the No. 9 safety prospect in the Rivals.com player rankings and the No. 22 overall prospect in the state of California.