California QB impressed by Terps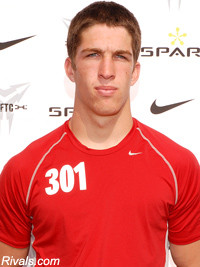 Since El Cajon (Calif.) Valhalla quarterback
Pete Thomas
is looking at a lot of schools thousands of miles away from home, one of the most important factors in his recruitment is coaching stability. Thomas found just that – and more – when he visited Maryland.
"That's very important to me and my mom and dad that they want me to go somewhere with stability, that there's not going to be a lot of coaching changes," Thomas said.
"Coach (Ralph) Friedgen is an awesome guy, I really liked meeting with him and my parents really liked him, too. I'd love for him to stay for the whole time if I go there but even if he decided to leave I know a lot of the staff is still going to be there."
The reason Thomas is confident a lot of the coaches will remain in place if Friedgen leaves is because offensive coordinator and quarterbacks coach James Franklin has been named the coach-in-waiting, a recent trend in college football. One benefit of going that route is stability, to let prospects know who will be in charge even if the head coach leaves.
So for Thomas, who is strongly considering the Terrapins at this point, getting to know Friedgen is crucial but also building a relationship with Franklin is an integral part of the recruiting process.
Things have been going well so far and that's why Thomas, rated as the No. 92 prospect in the 2010 class by Rivals.com, has had such positive things to say about the Maryland program and his recent trip to College Park.
"The visit was awesome," Thomas said. "It is definitely one of my top schools right now. I really like coach Franklin and the pro-style offense they run and coach Friedgen's history of developing quarterbacks. The facilities were really good and I think I fit in well with the players.
"I've been talking to (Franklin) about once a week, sometimes twice a week, ever since they offered. He and I have a good relationship. We talked about a lot of stuff, not just football, so that's good. Also with him being a coach-in-waiting and the new contract I like the stability that he's going to be there for a while."
Thomas, a 6-foot-5, 201-pound pro-style quarterback, also has offers from Arizona State and Northwestern. During the trip to Maryland, he also toured North Carolina State, which is showing lots of interest. That visit went well, too.
Plans are set for Thomas to attend Southern Cal's spring game this weekend and then make a return trip to Arizona State soon. Maryland's pitch was no guarantee of starting early on, but certainly the chance to get on the field and contribute.
"They said if I do commit to them I'd have the chance to compete early, of course not guaranteeing anything," Thomas said. "They said I'd have a chance to compete early so I can't really ask for anything more than that."
Thomas threw for 3,169 yards last season with 28 touchdowns and five interceptions. In his sophomore season, he finished with 1,960 passing yards. Three offers have already arrived but Thomas doesn't expect any more in the near future – not at least until colleges come to watch him during spring practice at his high school.
"I don't think any more schools will offer without coming out to see me during spring but a lot of them said they're going to come out and see me for spring so we'll see how that goes," he said.