Calibraska: Huskers making strong push into California
OAK PARK, Calif. – Call it Calibraska or Calabraska, whichever your preference.
There are hashtags on social media and the simple mention of the word mash-up of California or Calabasas with Nebraska guarantees an increase in Twitter followers.
A group of top prospects in this sun-soaked state are willing, almost giddy, to trade in palm trees for cornfields, Los Angeles for Lincoln.
They say it's a movement. It's certainly something.
"Everybody thinks it's just cornfields but it's really not," said Calabasas four-star quarterback and Nebraska commit Tristan Gebbia, who picked the Huskers over Ole Miss and many others.
"It's like what we live in. It's a big city. It's a weird feeling to know you haven't done anything at a school yet but people know you. I know I need to do a lot to be that guy. The only thing I've done to my name is I won a CIF title and what is that at the end of the day? There are bigger and better things for me to do and I feel like I'm at the bottom of where I need to be so there is a lot of work to do to get ahead."
Gebbia is one of two Calabasas standouts already committed to Nebraska with four-star receiver Keyshawn Johnson Jr. being the other. Big fish, five-star cornerback Darnay Holmes is still unpledged with Nebraska, UCLA, Stanford, Ohio State, Michigan, Miami and others still under consideration.
Holmes was at Sunday's satellite camp held here at Oak Park, moved from Calabasas because a raging brush fire threatened million-dollar homes and many other structures in that suburban L.A. community where Keyshawn Johnson, the Kardashians and many other celebrities reside.
Still, even with camp plans in flux into Sunday morning (a bunch of other high schools couldn't hold it because of graduation celebrations), about 150 campers flocked to Nebraska's camp, no problem.
The heat raged, the sun blazed and there was Holmes in his Gucci sunglasses, smiling and doing interviews, surrounded by Nebraska media who traveled halfway across the country to cover the camp, mainly to talk to all the top California talent in attendance about, yes, the Calibraska movement.
Holmes didn't work out and he left early (the five-star had to study for finals this week), but four-star receiver Tyjon Lindsey and Los Angeles Cathedral standout Jamire Calvin were running around out there. So was 2018 four-star running back T.J. Pledger and 2018 four-star QB Brevin White, teammates at nearby West Hills Chaminade.
Arizona four-star commit Nathan Tilford was working out at running back and Gebbia and Johnson Jr. were of course involved as well. Brendan Radley-Hiles, a four-star corner from Calabasas, made some nice plays. The entire Nebraska coaching staff was working the camp. Coach Mike Riley was mainly making the rounds, checking out each position, shaking hands and kissing babies.
The second-year Nebraska coach has tapped into something out here. It makes sense since he has plenty of connections from his days at Oregon State, along with other stops including USC, during his coaching career. He's wisely using them to recruit kids to his Midwest football enclave.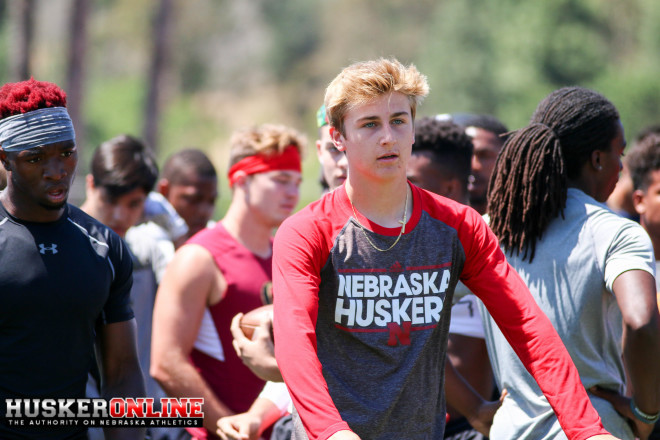 For Keyshawn Johnson Sr., the ability to recruit California talent and harness that with the rich tradition of Nebraska football – along with arguably the die-hardest fans in the sport – has meant jackpot for Riley and his staff.
"The difference is the brand of Nebraska versus the brand of Oregon State and I'm sure you go on Rivals and Oregon State people will kill me but the brand is a different brand," Johnson Sr. said. "Nebraska-Oregon State. Nebraska-Oregon State, it's not even in the same. … The fact that it is Nebraska and Nebraska has been on the radar for so many years and national championships and great academics plus this, this, this and this, plus a well-known coach from the West Coast, kids are going to want to come out and want to be a part of it.
"Calabasas the three or four guys that have committed or are in the mix of scholarships at Nebraska, I can't truly believe those kids would have been interested in Coach Riley and Oregon State. They just wouldn't. But this is Nebraska, it's Big Ten, it's Ohio State, it's Michigan, Michigan State. That says a lot. And it's only a two-hour, 45-minute direct flight now that Southwest and American Airlines have flights. So what's the difference between going here to Seattle or here to Texas to play? It's pretty good."
Kids have responded. Nebraska hauled out of California the nation's top safety in Lamar Jackson along with four-stars Patrick O'Brien and Marquel Dismuke (from Calabasas) and three-star Derrion Grim in the last recruiting cycle.
Already in the 2017 class, there are more California kids (Gebbia and Johnson) committed to the Huskers than from any other state and Nebraska's staff is trying to load up in a big way, not only with those who attended Sunday's satellite camp but many others in California. Plenty of 2018 prospects from California have been offered.
One of the biggest targets left is Holmes, who has been to Nebraska several times already. The Nebraska coaches hope his next trip – Holmes' official visit which will probably be for the Fresno State opener but could be for the Oregon showdown as well later in September – does the trick.
"I feel like this time I'm going to step in as an athlete and be in the locker room, see how the players are and see how they interact with incoming players," Holmes said. "That's about it because I've seen everything up there. I've been up there eight times and getting (Raising) Cane's (Chicken Fingers) when I land. That's something I'm excited for."
The five-star lives in a city filled with world-renowned fried chicken places from Jim Dandy to Roscoe's and everything in between, and he's aching for some chicken fingers from Raising Cane's.
There really is something special happening in Lincoln.