Bulldogs' Best: Top 10 highest-ranked defensive ends to sign with UGA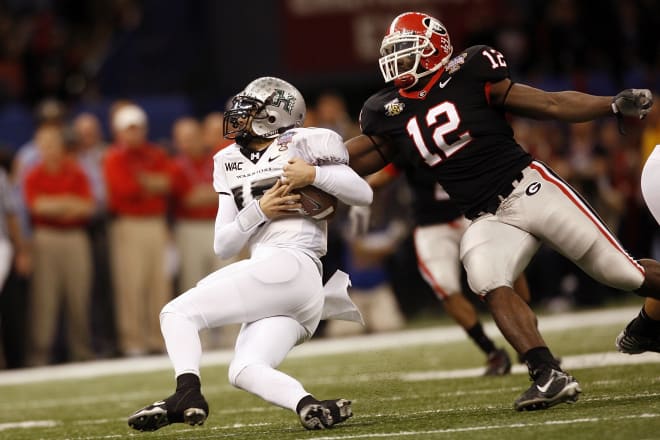 Mark Pszonak contributed to this report.
With last week's big commitment from Norcross, Ga. (now IMG Academy) defensive end Robert Beal, we wondered if his No. 70 overall ranking put him into the Rivals.com historical top 10 at defensive end for the Dawgs. And sure enough Beal, who still has three rankings cycles left to see his ranking either improve or drop, landed at No. 10. The third Norcross product on the list joins an interesting group that hasn't always lived up to expectations. Of the five players who completed their Georgia careers on this list, two were third-round draft picks and three went undrafted. Three players are on the current Georgia roster, one player is still in high school and one player had his career cut short due to blood clots.


1. Brandon Miller (2004)
The skinny: Unlike other recruits, Miller kept his process pretty quiet throughout. With a final four of Georgia, Georgia Tech, Florida and Florida State, Miller committed to the Bulldogs over the Seminoles on National Signing Day in 2004. His career at Georgia was rather disappointing as he never reached the level of his lofty ranking. After finishing his career with only 73 tackles and six sacks in Athens, Miller made his way to the NFL for one unremarkable season. After going undrafted in 2008, Miller signed as a free agent with Atlanta where he was active for only one game as a rookie before being waived. He played in one additional game in 2008 with Seattle before being released during the spring of 2010.
Farrell's take: I loved everything Miller brought to the table back in the 2004 class – length, speed, a good motor and the ability to string things out in the run game. This was a kid who had interceptions and punt returns for touchdowns as a junior -- he was that athletic at his position -- but he missed a lot of his senior year and never got into a groove in college. Maybe he peaked too soon? Not sure, but this was a head-scratcher seeing his lack of development.
2. Ray Drew (2011)
The skinny: Drew took his time with his recruiting process, taking official visits to Georgia, Auburn, Clemson, LSU and Miami. While the assumption was that he would end up at Georgia, Drew remained coy until he finally committed to the Bulldogs a few days before National Signing Day. At Georgia, after a somewhat promising junior season, he returned for his senior season in hopes of boosting his NFL stock. However, he did not meet expectations, finishing with only 39 tackles and one sack. Drew went undrafted in 2015, which led to free agency stints at both Miami and Cleveland. After being released by the Browns in November he was signed by Green Bay this March, but again was released in April. He is currently looking for a new football home.
Farrell's Take: Drew had a lot of hype surrounding him and he certainly had the skills, quickness and length to be a great one. The one thing I questioned a bit during the evaluation process back in the 2011 class was his dedication to football and becoming great, but I overlooked it because of his skills. Perhaps that was the reason he didn't pan out, or it could have been a few position changes based on scheme. Whatever it was, he never came close to realizing his potential.
3. Lorenzo Carter (2014)
The skinny: Carter took an official visit to Florida during his senior season and then waited until January to visit Georgia, LSU and Florida State. Georgia had made Carter a huge priority since they offered him during the winter after his junior season, and the hard work paid off with his commitment on National Signing Day. After a very promising true freshman season at outside linebacker, with 41 tackles and 4.5 sacks, Carter's productivity slipped in 2015. Carter had a promising spring, so expectations are once again high in Athens for a big junior season.
Farrell's take: Carter was a one-time five-star who lost that status after a very average senior season. However, he shot back up the rankings a bit when he was very effective during the Under Armour Game week. He was a bit of a one-trick pony as a pass rusher, an outside loop guy who either beat you with speed or was stonewalled when linemen got their hands on him. There was a debate whether he should be an outside linebacker or a defensive end but, as with most potential hybrids, we kept him at end. He still has time to break out and certainly has the potential.
4. Charles Johnson (2004)
The skinny: Johnson was an early commitment to Georgia, as he made his pledge a few days after the 2003 National Signing Day. However, he still took an official visit to Auburn during his senior season and then took visits to Georgia and Florida in January. While the Gators had the last crack at Johnson, he never truly wavered on his word and signed with the Bulldogs. After a huge 2006 season, which saw him total 19 tackles for a loss and 9.5 sacks, Johnson declared for the 2007 Draft and was selected in the third round by Carolina. He has spent his entire nine-year career with the Panthers and signed a one-year deal to remain in Carolina for the 2016 season.
Farrell's take: A great athlete in high school, Johnson played hoops, ran track and played running back on offense for his team. While he wasn't as long or super quick as you'd like as an end, he was sneaky strong, had a great work ethic and his motor was relentless. Based on his success at Georgia and in the NFL, Johnson is a success story even if he lacked the measurables of the guys ahead of him. Sometimes heart and desire are hard to scout.
5. Natrez Patrick (2015)
The skinny: Patrick had been picking up offers throughout the majority of his high school career but finally trimmed his list down to Georgia, Ole Miss, Alabama and Auburn during the spring. In May, Patrick decided to stay home and committed to the Bulldogs over the Rebels during his school's spring game. Patrick played in nine games as a true freshman last fall after moving to inside linebacker, finishing with 22 tackles and one sack. This spring he ran with the first team, which puts him in a great position to become a major contributor for the Bulldogs this season.
Farrell's Take: Speaking of guys who weren't long in high school but were physical and played hard-nosed football, Patrick is a great example. Patrick had great feet and showcased them throughout his high school career, but I didn't think he could be a successful inside linebacker at his size. So far he's been a nice surprise at that position.
6. T.J. Stripling (2010)
The skinny: Stripling made a summer commitment to Georgia, but still took official visits to Georgia Tech and Miami in January after the Bulldogs made several coaching changes on the defensive side of the ball. However, after the visits and then talking with the new Georgia defensive line coach, Todd Grantham, Stripling stuck with his pledge and signed with the Bulldogs. In Athens, Stripling's career never materialized, as he totaled 17 tackles and one sack in four seasons while trying to deal with a knee injury that happened during his true freshman season. After going undrafted in 2014, he was never able to find a home at the next level.
Farrell's Take: Tall, thin and angular, Stripling had the frame to fill out in a big way and the skills to be a dominant outside pass rusher. He was another of those projected hybrid players, especially with UGA moving to a 3-4 scheme, but that injury derailed his progress and he wasn't able to recover. It's a shame, too, because he was fun to watch in high school.
7. Marcus Jackson (2002)
The skinny: Jackson took official visits to Georgia and Florida State and also considered Tennessee and Florida. On National Signing Day he finally decided to stay close to home and committed to the Bulldogs. After redshirting his freshman season, Jackson played in 2003 before he suffered a blood clot in his brain in July of 2004. It was decided in March, 2005 that it would be safer for Jackson not to play football again, thus ending his football career.
Farrell's take: This was an absolute shame as Jackson had no choice but to end his career due to the blood clots in his brain and he's lucky to be alive. A once-promising career ended over the summer between his first and second year at Georgia and he never had a chance to show off the skills that made him so coveted.
8. Jordan Jenkins (2012)
The skinny: Jenkins took all five of his official visits during his senior season to Georgia, Alabama, Auburn, Florida and Tennessee, before committing to the Bulldogs over the Crimson Tide and Gators in early January. Jenkins played immediately for the Bulldogs, starting six games as a true freshman. He continued to be consistent and productive during his last three seasons in Athens, which led him to be drafted in the third round by the New York Jets earlier this year.
Farrell's Take: Jenkins was more filled out and stronger than another defensive end in the 2012 class that committed to Georgia, Leonard Floyd, but he obviously didn't have as much NFL upside. That being said, Jenkins' ability in space, off the edge and versatility still landed him in round three. He had a successful career at UGA and I can remember how dominant he was when the competition was at its best in high school, especially during Under Armour Game week.
9. Jonathan Ledbetter (2015)
The Skinny: Ledbetter originally committed to Alabama in January after his junior season but followed that up with visits to Georgia and Auburn. After his brother, Joseph, joined the Georgia program, the Bulldogs quickly became a serious threat for Ledbetter. He flipped to Georgia in August and stayed firm with his commitment through National Signing Day. Ledbetter played in seven games as a back-up during his true freshman season and was firmly in the defensive end rotation for this fall until another recent DUI arrest has clouded his future.
Farrell's Take: Big and talented, Ledbetter was a guy I could see growing and sliding inside down the line in his career but he dropped weight after high school, got himself into excellent condition and stayed outside. Now his career is in jeopardy because of off-field issues and he could join a few others on this list as a bust, but it will be much more self-inflicted if it happens.
10. Robert Beal (2017)
The skinny: Beal originally committed to Notre Dame last November but re-opened his process this February. While the Fighting Irish still remained in the picture, his second round of recruiting came down to Georgia, Alabama, Texas and Florida State. Citing his desire to bring a National Championship home to Georgia, Beal committed to the Bulldogs on July 5.
Farrell's take: Beal has impressive upside and could be that next great hybrid guy at UGA if he continues to add more aggression and become more physical. Like Drew before him, I do question how much he wants to be great so it will be interesting to follow his development at IMG and into his college career. He certainly has the talent to be a star, but as you can see, so have many on this list.