Bryant talks new Pac-12 offer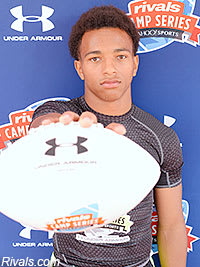 Washington and Colorado looked like the clear frontrunners for
Myles Bryant
but after UCLA offered in recent days his recruitment has gotten a little more complicated.
The Huskies and Buffaloes still remain high on Bryant'y list but the three-star defensive back from Los Angeles Loyola will now take a much closer look at the Bruins.
"I've been talking to them for a while," Bryant said. "I've been talking to coach (Demetrice) Martin since about the end of my junior season.
"He just re-evaluated me. They thought my size was sort of a problem. He re-evaluated my film and just decided to go through with it."
After the offer came in last week, Bryant said UCLA definitely moves way up his list. A decision was expected in the coming weeks before his senior season starts but the three-star is no longer sure of a timeline.
"I would put them near the top," Bryant said of UCLA. "I think the commitment is going to be pushed back a little.
"If I don't commit before the season then I plan on taking a couple official visits."
Over the next couple weeks, the Los Angeles Loyola prospect is going to take a closer look at his recruitment and think a lot about UCLA. He might even take a trip to campus to get the full view of where he stands with all his favorites.
Bryant said if he does decide to hold off on a commitment and take official visits then UCLA, Washington and Colorado would most likely receive trips.