Brown moves up decision date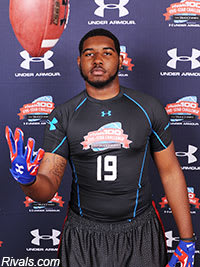 Rivals250 offensive tackle
George Brown
had planned to announce his commitment on his birthday, Oct. 28, but now will decide in less than a month and has a new Top 8 that will battle for his services.
"In talking to my mom and my dad, I'm just ready to get it over with," Brown said. "I would say I am pretty close (to a decision)."
"I would say their academics, how they produce on the field and how many players at my position they get to the NFL," Brown said.
The 6-foot-6, 265-pound Brown, out of Cincinnati's Winton Woods High School, has made dozens of college campus visits and seen each of his Top 8 in-person, with one exception.
"I visited every one except for Oklahoma," Brown said. "I've been talking with the coach almost every day and I have to sit down with my dad and see when I am going to make that trip, but that's definitely one of the trips I am trying to make."
Other schools Brown is trying to visit between now and July 25 are Alabama, Florida, Kentucky and LSU. Kentucky may be the school he has visited most often, and with his cousin,
Mike Edwards
, entering his freshman season in Lexington, the Wildcats should feel good about their chances.
"Kentucky is up there," Brown said. "I like them a lot, have a good relationship with Coach (Mark) Stoops, Coach (Vince) Marrow and Coach (John) Schlarman and also a lot of the players that are up there already."
Although Brown lives in the Big Ten's footprint, not a single school from that conference appears in his Top 8. The SEC is well represented, however, and that is no coincidence.
"I want to play against the best and right now the SEC is the best conference," Brown said.
The recruiting world will not have to wait long to find out whether Brown will choose an SEC school, or go with one of the two non-SEC programs in his Top 8.