Brown is quick to slow down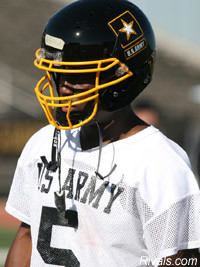 Defenses learned that each time he turned the corner and sped to a touchdown for Wichita (Kan.) East High School.
Scouts confirmed that when he was timed at 4.32 seconds in the 40-yard dash.
His older brother, Arthur, knew it about eight years ago.
Yet, despite the speed that produced 6,809 rushing yards in his high school career and boosted his status as a five-star recruit and the nation's second-rated football prospect, Bryce Brown prefers a slower pace rather than the fast lane.
He surely wants to set records, but he wants to set an example even more. He wants to score touchdowns, but he aims to touch hearts just as much. He's infinitely capable of accomplishing those tasks, though he's not sure from which side of the country he'll attempt it.
"It's real tough," Bryce said of his decision. "Oregon reminds me of home. Miami is different. Oregon is personally the best fit for me. At Miami, I would be tested spiritually, and I need to be tested. Oregon has the type of people like me. It's not as diverse."
Eugene is nice. The Willamette Valley is one of the most picturesque regions of Oregon and the area is well-known for recreational opportunities.
But Eugene is a city of less than 200,000, while Miami is a thriving metropolis. And the University of Oregon can't match Miami in terms of tradition and past success. Miami has won multiple national championships. Oregon awaits its first.
Also, Miami has produced star NFL running backs like Clinton Portis, Frank Gore and Willis McGahee. That would figure to get the attention of a running back labeled Wichita's most celebrated player since NFL legend Barry Sanders.
And the allure of South Beach could tempt anyone. Plus, if he does opt for Miami he'll again be teammates with Arthur and his family will relocate there.
"If I go to Miami all my family is going to be in the same place because my family is moving there if I go there," he said. "If I go elsewhere they're going to move to Texas."
Oregon reminds me of home. Miami is different.
— Bryce Brown, on his upcoming college decision.
With all the perceived advantages that Miami might have the fact that Bryce Brown appears to be struggling with his decision might be surprising.
But those who have gotten to know him might not be surprised at all. Scouts who have watched and interviewed him constantly over the last few years rave about his character and courtesy. He's described as quiet and unassuming.
He says he prays daily for guidance and wisdom. He wears a cross around his neck. Though he's not a choirboy by any means, he doesn't seem the type to get caught up in the parties and celebrity that can accompany college football stardom.
Even Arthur was stumped when asked where would be the most likely place to find Bryce if not for the football field or weight room.
"Uh … he'd be at home sitting in front of the TV," Arthur said. "He loves watching film of himself and trying to get better. He's that dedicated."
And make no mistake, when Bryce Brown keeps hitting the rewind button on the VCR it's not to relish one of his breakaway touchdown runs.
He's been the best running back on the block for several years. And he wants to retain that status. He just wants it to have two definitions.
"I'm just trying to get better," Bryce said. "There are things I need to work on to take it to the next level. When I was a junior I had eight fumbles. I had only two my whole senior season.
"We ran the spread offense this year and I had never run that before, so I adjusted and learned to deal with it. I had to work on my pass blocking. So I was always watching to see how I could get better."
It speaks highly that a running back rated the nation's No. 2 prospect is grounded enough to focus on pass blocking. After all, pass protection problems are the main reason freshman running backs often get limited playing time.
But make no mistake, Bryce Brown is coveted because of his ability turn the corner and score from anywhere on the field.
Arthur has had a year of watching collegiate running backs up close, and he says Bryce can quickly distinguish himself at the next level.
"He plays with a lot of confidence and with that passion," Arthur said. "He has a great love for the game. Every time he's out on the field he feels like he's unstoppable.
"He's ready to contribute and make a big impact."
Bryce wants to. But he wants his impact to go beyond the scoreboard and stat sheets.
"This year I realized why I play the game – to touch people and impact lives," he said. "I play for people – the little kids and young people that look up to me. When I was their age I had nobody to look to except my brother.
"I'm accountable for a lot."
That's a load of responsibility for Bryce Brown to carry. But he's accustomed to carrying the load.
And though some might wonder how successful he'll be in making the transition from playing against Kansas high school kids to major college players, everything Bryce Brown has done before indicates he'll be on a fast adjustment.
Even if he chooses to do it in a slower-paced environment.