BREAKING: Texas LB Josh White commits to LSU over Longhorns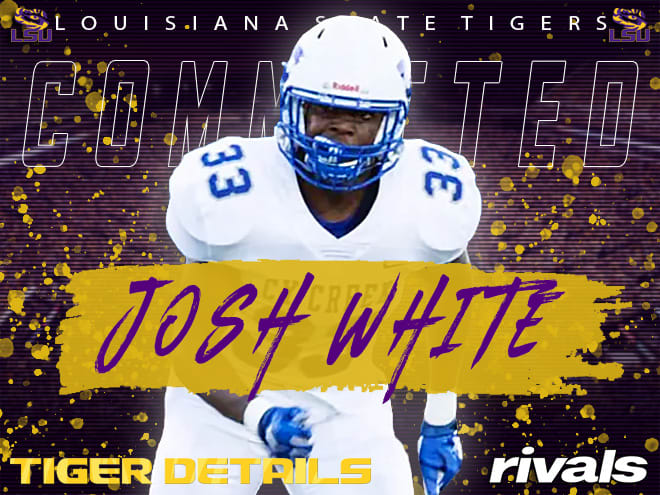 THE SITUATION
Josh White has been back on the market for only a couple of weeks since decommitting from Oklahoma State in late January. That is no longer the case.
The talented three-star linebacker from the Houston area gave a verbal commitment to LSU on Friday after multiple visits to Baton Rouge dating back to January and throughout the spring.
White's stock has risen quite a bit in recent weeks, which ultimately led to him pressing reset on his recruitment. Schools such as Texas, Alabama, Auburn, Texas A&M, and of course LSU, have all made their move for the Cypress Creek (Texas) standout recently. Now, he's set to be a huge piece for the Tigers on defense in a talented Class of 2020.
IN HIS OWN WORDS
"The reason ... I'm getting baptized Sunday. I wanted to do it this week, it's just such a special week for me."
"LSU is a great place. Coach (Dave) Aranda is a really good coach, a really smart coach, one of the smartest coaches I've ever been around. You can see that if you ever speak to him. Coach O (Ed Orgeron) is also a great coach and he's really funny."
"LSU really took the time to show me how I fit in their defense and how I fit in their program, and they showed me why they offered me. Coach Aranda, we talk and we broke down their depth chart. They showed me the depth chart and the guys they got, and how I'd fit in from there."
"When I was there, Coach O told me if I would come to LSU, it would be just like family."
"What stood out was the amount of time that LSU took when I went down there. It felt like a real family environment. I talked to the coaches and the players and everything. We sat down and we ate, we talked onto the field at Death Valley and it was beautiful."
"The difference between LSU and other schools was Coach Aranda as a coach. He's somebody I wanted to coach me. He told me the things I needed to do to take over the SEC."
"LSU has a great record of building up players and then getting them to the NFL. That was important to me, and then letting them take me and turn me into the best player I can be."
"They told me I'm a ROVER just like Devin White. Our speed and our ability to diagnose plays, they said, were the same."
RIVALS REACTION
Look for White's ranking to continue to rise in the upcoming weeks. He's a unique defender that should play a multitude of different roles for Dave Aranda in the LSU defense. The most promising part of his game is his ability to get after the quarterback off the edge. White will give the Tigers another major presence in the second layer of their defense, particularly in the pass-rush department and of course in stopping the run.
White shines in his angled pursuit. He's a very, very good run defender. He's able to quickly recognize plays as they develop and has uncanny instincts to race to the ball. White can shed tackles with ease and is explosive for the position. Rarely do you see White not bring serious pop when he makes a tackle. That's another box checked in regards to his versatility as a linebacker who will likely play on the outside but can also take on a role in the middle as well.
As a pass-rusher, White is disruptive. He's got some length to him and naturally forces turnovers when he's in pursuit. He's very agile with good sideline-to-sideline speed, which makes him equally as dangerous as a run-stopper as he is a blitzer.
White is very athletic and has the ability to cover tight ends, running backs or even slot receivers, which is unique to the linebackers currently on LSU's roster. The same speed he uses to get after the quarterback is evident in coverage. His sideline-to-sideline speed should translate very well at the next level. In my opinion, he's a future All-Conference linebacker.
Whether it's a weak-side linebacker or middle linebacker, White can wear multiple hats on the Tigers' defense. He can also play outside as a Field linebacker that can cover or get after opposing quarterbacks like Michael Divinity and Patrick Queen did last season.
Big picture-wise, there are few talented middle linebacker prospects in Louisiana for 2020, so LSU was forced to look out-of-state. It identified White as a top option back in January and three months later, secured a commitment from its primary target.