{{ timeAgo('2023-03-04 08:26:07 -0600') }}
basketball
Edit
Breaking down the recruitment of four-star Derik Queen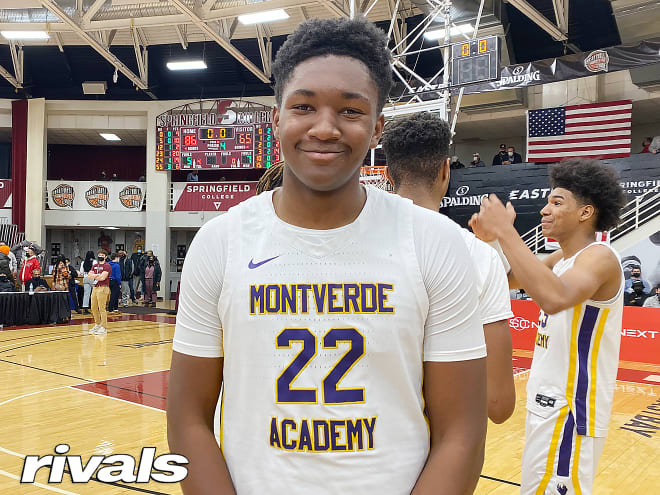 Four-star big man Derik Queen has been a mainstay towards the top of the Rivals rankings for the junior class ever since the initial top-40 was released back in 2021. Being a familiar name and face to a lot of basketball recruiting fans, Queen is one of the prospects most often asked about in terms of recruiting.
Today, Rivals.com's Travis Graf hopes to answer some of those questions - from who the main contenders are, to which class he will end up in, and ultimately, a FutureCast.
Who are the main contenders in his recruitment?
For now, unless other programs pop up on the radar, Queen seems to be focused on Maryland, Indiana and Auburn. The four-star big man officially visited Indiana back in September, Maryland in October and could possibly take a trip to Auburn before wrapping up a decision.
These three programs have separated themselves from the pack and have all done an excellent job of courting the talented junior.
*****
Will he sign as part of the 2024 or 2023 class?
Queen is a part of the 2024 recruiting class currently, but he's long been labeled as a potential reclass candidate. He's physically ready for the college game now in terms of frame, and he's gotten in better shape over the past year. A decision likely won't be made for a few months, but there's a very real possibility that he could ultimately end up in the 2023 class when it's all said and done.
*****
FutureCast: Queen to Maryland
Kevin Willard and Tony Skinn have done a great job in this recruitment. Queen, a Baltimore native, has been made the top priority by the Terrapins' staff since Day 1. A chance to be a hometown hero for a resurging program is definitely an appealing situation. I've entered a FutureCast for Maryland in this recruitment, and will be monitoring a potential reclassification.