Breaking down the eight biggest mid-season redshirt transfers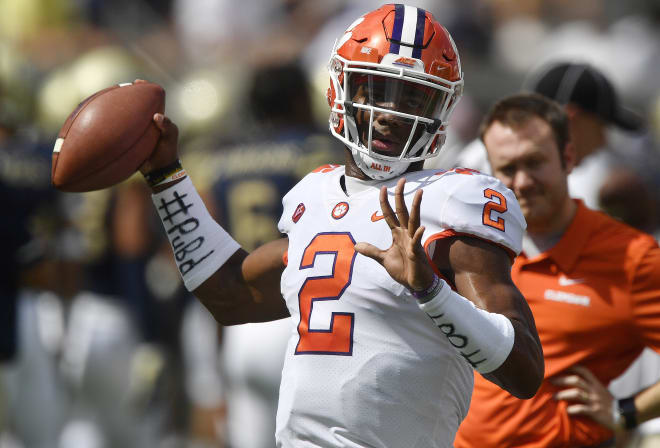 TAKE TWO: Is Kliff Kingsbury off the hot seat at Texas Tech?
When the new redshirt rule allowing players to appear in four games or less and still maintain a year of eligibility was implemented earlier this year, it was universally lauded by coaches, players and fans alike. The thought process was, younger players could get their feet wet and not lose an entire year for limited playing time.

But what some didn't see coming was a side effect, allowing veteran players to leave their current schools if they were unhappy with playing time or other factors. Over the past week, a number of players have announced their intentions to leave school and move on to greener pastures. We take a look at eight players who have appeared in games for one school this season but are using the new rule to their advantage and are now headed elsewhere, eligibility intact.
As a recruit: Bryant collected offers from several of college football's best programs but many coaches thought he might be suited to play tight end at the next level. Eventually Clemson came through with an offer and quickly jumped to the top of Bryant's list, landing his commitment over Florida.
What he did in college: Bryant patiently waited his turn behind Deshaun Watson and won the Tigers' starting quarterback job heading into the 2017 season, beating out five-star freshman Hunter Johnson. He led Clemson to the College Football Playoff in his first season, where the Tigers lost to eventual national champion Alabama. He once again beat out a five-star freshman this offseason, edging Trevor Lawrence. But the pair split time over the first four games, with Lawrence playing well enough that he won the job from Bryant this week. After being informed of the news, he announced his plans to transfer on Wednesday.
Where he might land: Early speculation has Arkansas as the early favorite, as Chad Morris was involved with his recruitment to Clemson.

As a recruit: Craig-Myers made an early commitment to Auburn before backing off that pledge and looking hard at North Carolina, Florida, Florida State and others. However, on National Signing Day he ended up back in the fold with the Tigers.
What he did in college: Craig-Myers never really made the impact most expected with the Tigers, having his best season as a sophomore in 2017, catching 16 passes for 285 yards, including a touchdown in Auburn's Iron Bowl win over Alabama. He opened the 2018 season as one of the Tigers starting wide receivers, but elected to transfer last week after catching just two passes in three games played.
Where he might land: It's likely Craig-Myers returns to the state of Florida and a place like USF, in his hometown of Tampa, might make the most sense.

As a recruit: Griffin had a long list of national offers but committed to the Ducks in the spring of his junior year over Georgia, Alabama, Clemson and several others.
What he did in college: Griffin suffered a knee injury that cut short his junior year of high school, but he showed no ill effects after arriving at Oregon, accounting for 732 yards from scrimmage and four touchdowns as a true freshman in 2015. But injuries would limit Griffin's playing time over the next two years and after not appearing in Oregon's loss to Stanford on Saturday, he announced his intention to transfer. For his career, Griffin had 1,287 yards from scrimmage and 10 touchdowns.
Where he might land: Griffin had his best season as a college player under then-offensive coordinator Scott Frost, who is now the head coach at Nebraska. The Huskers could be an option or he could elect to transfer closer to his Georgia home.

As a recruit: A three-star Tennessee legacy, McClesky didn't get much Power Five interest at all. When Oklahoma State came through with an offer the Cowboys jumped to the top of his list and he committed to them over Tulane and USF at the start of his senior year.
What he did in college: McClesky was an instant hit in Stillwater, racking up big-time numbers from his first year on campus. A steady threat as both a pass-catcher and in the return game, he had 167 catches for 1,865 yards and 17 touchdowns during his three-plus seasons in with the team. Earlier this week he shocked many when he announced his intentions to transfer, citing a lack of inclusion in the Cowboys' offense. He finished his Oklahoma State career ranked No. 6 all-time in receptions.
Where he might land: Early rumors at that he might end up back in his home state of Louisiana at Tulane, where his father J.J. is the Green Wave's wide receivers coach.

As a recruit: Myers saw his recruitment blow up later in the process and he committed to Auburn on Signing Day along with his half-brother Craig-Myers
What he did in college: Myers had minimal impact in his career at Auburn, redshirting as a freshman and seeing the field twice in his career but never recording a statistic.
Where he might land: Much like last time, it's likely he and Craig-Myers are a package deal. It's likely they end up back in Florida.
As a recruit: Lemons made an early commitment to North Carolina before flipping to Florida. He then decommitted from the Gators, only to end up back in the fold on Signing Day 2017.
What he did in college: Lemons saw playing time as a freshman, rushing for 136 yards in 2017. But after not receiving a carry in 2018, he announced his intention to transfer earlier this month.
Where he might land: Lemons is likely headed to junior college, where he will reset his recruitment. It wouldn't be a surprise to see him land back in the state of Florida at a Group of Five program.

As a recruit: Harris elected to stay close to home and committed to Auburn over Kentucky, Texas A&M and several other major programs during the summer prior to his senior year of high school.
What he did in college: Harris saw playing time right away at Auburn, appearing in 12 games as a freshman and playing steadily ever since. Unfortunately, that time on the field didn't include many opportunities in the passing game as he caught just four passes for 33 yards and two touchdowns in his three-plus seasons. After Auburn's loss to LSU earlier this month, Harris announced his plans to transfer.
Where he might land: The Alabama native is likely to stay close to home and could end up at a Group of Five program in the state. If he does leave, Arizona could be a school to watch as he and Wildcats coach Kevin Sumlin have a relationship dating back to his high school recruitment.
As a recruit: Nance initially signed with Southern Miss out of high school at a member of the class of 2015, but attended junior college instead and ended up signing with Arkansas in 2017.
What he did in college: Nance stepped right into playing time in Fayetteville, catching 37 passes for 539 yards and five touchdowns in 2017, both totals led the Razorbacks on the year. He opened 2018 as a starter but the ball didn't find him as the team struggled out of the gate and he caught just one pass for minus-2 yards. He announced his plans to transfer earlier this week.
Where he might land: It would make sense for Nance to take things full circle and end up back in his home state of Mississippi but he should have a number of options considering his productivity last season.