Breaking down the Columbus NIKE Camp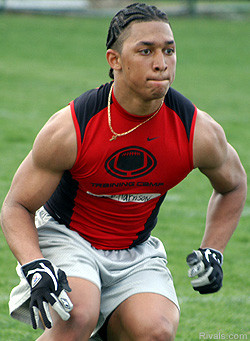 While there probably weren't any five-star quarterbacks on hand, several quarterbacks could potentially become high-level national recruits by the time they are finished, and each had a good camp in one way or the other.
He didn't have the strongest arm of the camp, but when it came to the little things, Stull delivered and looked like the type of quarterback who should have plenty of scholarship offers by the time recruiting ends the spring evaluation period.
Forcier threw what rivaled Schoenhoft for the prettiest ball at the camp and his mechanics were impeccable. He said after the camp that he would like to get out of California and play somewhere in the Midwest.
He just didn't get to showcase his true ability as a dual-threat athlete because of the passing technique drills, but there is little doubt he's still one of the nation's best quarterback/athletes.
Two guys stole the show at the running back position, and it's no surprise that both are being highly recruited.
The 5-foot-9, 186-pound rusher clocked a 4.4-second 40-yard dash, a camp-best 3.87-second shuttle, jumped 36.9 inches in the vertical and had 20 reps in the bench press. He then carried over that impressiveness in the drills and in one-on-ones. You can see now why he's considered one of Ohio's top overall players.
"It is kind of funny," Allison said. "When I was lining up at there, everybody thought they would be able to stick right with me, but I was running right past them. I guess people didn't respect my speed."
But the end of the one-on-one drills, respect had been earned. Cornerbacks often gave him a five-yard cushion instead of the bump-and-run coverage that seemed the norm throughout the camp.
Grimes and Russell weren't the biggest, and they didn't bust out the best 40-yard dash times of the camp (Russell had a 4.5), but when it came to catching they were unmatched. Grimes had a pair of soft hands that seemed to be able to snag about every dart thrown his way. Russell put on a cut-back move on a defender after a catch that would make Barry Sanders proud.
That's especially true for Daniels. Simply put, he is a freak.
Daniels looked all of his 6-foot-3, 220 pounds and timed in at 4.5-seconds in the 40. What was even more impressive is that this big guy was out running with the receivers and beating defenders in drills. His hands weren't the best, but with his frame and ability to play all over the field, he might find a home on defense – maybe outside linebacker on the next level.
He didn't test in the bench because of a strained shoulder that he suffered in track, but there is little doubting from his physique that he would have easily put up 185 pounds more than 25 times.
Dawson timed in at 4.5 seconds in the 40 and was extremely physical and hard to match up with. You'll be hard pressed to find a better player in the state of West Virginia after seeing what Dawson did on Saturday.
Boone, who is Rivals100.com's early pick for the top offensive tackle in the nation, ran a 5.1, which was disappointing, according to him. Still there was little doubt that he was the top lineman at the camp and could have been the top overall player at the camp easily.
Yet Boone wasn't the only lineman at the camp to take a big step forward.
Simon looks like he's added a few more pounds of muscle since Rivals100.com evaluated him this past fall. He was an animal in drills with his aggressive nature and nose for a football. Look for Smith's stock to continue to soar after an impressive showing Saturday.
He was named the camp's most valuable player.
"I like to play physical," Harrison said. "I like to get up in the guy's face and use my strength to push him off his route. Then I can keep up with him and close and make the interception. But I love to be physical at the line of scrimmage and then let my speed take over."
Like the receiver spot, the defensive backs were loaded with high-level Division I talent.