Breakdown: Gary, Corley headline standout Big Ten freshman class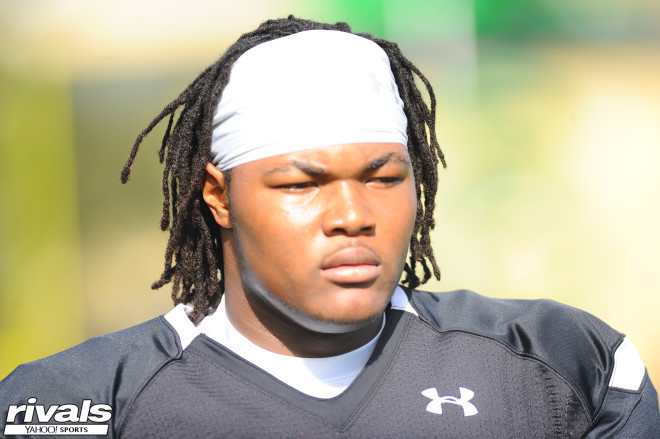 RELATED: Biggest remaining recruiting needs for each Big Ten team
The class of 2016 has been signed for over three months and is now preparing to start summer camps across the country. Here is the newcomer for each Big Ten program that will be most exciting to watch play when his career kicks off in the fall.
ILLINOIS FIGHTING ILLINI
Bill Cubit's first and only class at Illinois was not particularly impressive, but that group now will have a chance to play their entire careers for new head coach Lovie Smith. Coming from the NFL, where size is a requirement for the outside receiver position, Smith could see in the 6-foot-4, 215-pound Holcombe a fit for that position in his offense. Although listed as a tight end, Holcombe played most of his senior season split out. His speed and agility were both on the plus-side for the tight end position, and he may have enough of each to split out in college.
IOWA HAWKEYES
Cedrick Lattimore received more of the attention out of the pair of defensive ends who signed with the Hawkeyes from Detroit's East English Village school in the 2016 class, but the 6-foot-5, 235-pound Golston may have the higher ceiling. He also has a lower basement, but if the Iowa coaches can get him to realize his potential, then Golston could develop into a pass rushing force off the edge for the Hawkeyes and one day hear his name called by the commissioner. NFL teams love those long, explosive pass rushers.
INDIANA HOOSIERS
There are a lot of players from this 2016 Indiana class that I am interested to watch develop, but Thompson is unique. Originally a Rivals250 prospect from the 2013 class who signed with Ohio State, Thompson left the Buckeyes before his career got started and played for Iowa Western Community College last season. Now 6-foot-2 and 195 pounds, Thompson always had exceptional speed and I am very excited to see his development since high school. He is already on-campus with the Hoosiers and is expected to contribute immediately.
MARYLAND TERRAPINS
The Under Armour All-America Game was my first chance to see Ellis in person, and he immediately jumps off the field because of how sudden he is. Whether working the short and intermediate routes or getting deep over the middle, Ellis can create separation in an instant. New head coach D.J. Durkin is a former defensive coordinator who certainly knows the value of a wide receiver who can hit the home run from anywhere on the field and I expect that attribute contributes to Ellis seeing early playing time as a freshman.
MICHIGAN WOLVERINES
Of course the answer here is going to be the No. 1 player in the 2016 class. The pressure on Gary will be tremendous when he arrives in Ann Arbor – he received the biggest ovation during the Wolverines' spring game even though he was not playing – but from my interactions with him over the last couple years, I expect he will handle that just fine. The physical tools are obvious and well-documented, but what sold me on Gary being the No. 1 player in the class was his work ethic and approach to the game. Those will serve him well when he is just a lowly freshman come August.
MICHIGAN STATE SPARTANS
This was my pick for Big Ten Freshman of the Year when we did our post-Signing Day recap of the conference, and Corley's performance during spring ball has only strengthened that likelihood. Expectations are he will step in from day one and be a major part of the Spartans' offense, and possibly become the go-to receiver by season's end. There was a lot of talk during his recruitment that Corley would end up on defense if he went to Michigan State, but I stuck to my guns and said his highest upside was at receiver. I enjoy being right.
MINNESOTA GOLDEN GOPHERS
The easy answer here would have been Rivals100 linebacker Carter Coughlin – who I expect will become an early contributor and future face of that program – but Johnson intrigues me more because of his potential on either side of the football. The 6-foot-2, 179-pounder ranked as the No. 36 athlete prospect in the 2016 class and is expected to start out at wide receiver for the Gophers. He will provide a big play threat in that role, but also has outstanding coverage skills and could eventually become that rare two-way player in college.
NEBRASKA CORNHUSKERS
There were few highlight tapes more fun to watch than Spielman's from senior year. Just 5-foot-8 and 173 pounds, the son of Minnesota Vikings general manager Rick Spielman is lightning in a bottle who bounces around the field like he is in a pinball game. The Cornhuskers are planning to start him off at receiver, but he should definitely provide a contribution in the return game and also has experience at running back so he could flash into the backfield for specific plays. Coming up with way to utilize his unique abilities should be a treat for Nebraska coaches.
NORTHWESTERN WILDCATS
Larkin finished his prep career as one of the most productive and accomplished running backs in Ohio high school history after rushing for 4,413 yards and 66 touchdowns the last two seasons and winning Division I state titles both years. The 5-foot-10, 180-pound Larkin brings many of the same qualities to the table as current starter Justin Jackson. He does not have great top-end speed, but he does possess an excellent burst, has outstanding vision and runs with uncanny balance. He could quickly establish himself as Jackson's heir apparent in Evanston.
OHIO STATE BUCKEYES
I do not expect him to contribute this fall – though the Buckeyes do have serious depth issues at tackle so it is not out of the question – but four years from now we may be looking back at Jordan as the gem of this Buckeyes' class. A 6-foot-6, 300-pound lineman who combines strength and athleticism, Jordan has all the makings of a future first-round draft pick. Whether he realizes that potential is the question, and one of the reasons he is the player I am most intrigued by from Ohio State's outstanding 2016 recruiting class.
PENN STATE NITTANY LIONS
Sanders was the Nittany Lions' highest-rated recruit in the 2016 class, but that is not why I list him as the one I am most excited to see. I simply have a ton of respect for his game after watching him compete at several Rivals Camp Series events over the last few years. Sanders provides one of the most complete games from the running back position I have covered in the last several classes. He has the size and strength to run between the tackles and the speed and elusiveness to hit the home run off the edge. Sanders plies his craft with a mastery beyond his years.
PURDUE BOILERMAKERS
Many, including myself, who had seen Landers play in high school felt Purdue got itself a steal when they flipped the Dayton native from his Bowling Green commitment in January. There were questions about whether he would qualify that made some teams hold off, but from a talent standpoint this is a big get for the Boilermakers' offense. Landers is a high-flying, 6-foot-4, 170-pound wide receiver who should be an instant red zone weapon. He has the athleticism and leaping ability to make catches few other receivers can, and has sky-high potential.
RUTGERS SCARLET KNIGHTS
Williams was a prospect I had a chance to see in New Jersey at the Rivals Camp Series in April 2015 and he nearly came away with the Linebacker MVP award that day. Listed just 6-foot-1 and 210 pounds, Williams certainly looks bigger than that and he definitely plays longer. He was outstanding in space during that Rivals Camp Series event, showed range and got his hands on a lot of footballs. In fact, there is buzz now that Rutgers may look at moving him down to a defensive end role after some time on the training table and in the weight room.
WISCONSIN BADGERS
I bragged about being right on Donnie Corley's position earlier in this column, but so far I am not being proved correct by the Wisconsin coaches in their projection for Taylor. There is still time, though. Head coach Paul Chryst and his staff have never wavered about the 6-foot, 190-pound Taylor playing wide receiver for them. After seeing him on film and in-person his senior season, I see the former four-star having the highest upside at running back. So, I am very interested to see how Taylor's career plays out. I do love his potential. We rated him the highest in the Badgers' 2016 class.