Book seeing Pac-12 interest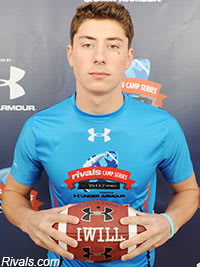 Ian Book
is having a strong start to his junior season and after recently landing an offer from Boise State many other programs have reached out.
The three-star quarterback from El Dorado Hills (Calif.) Oak Ridge is hearing from a handful of Pac-12 schools as his season continues.
"After the offer from Boise I've been getting a lot of mail," Book said. "I keep getting a lot of the same schools weekly and then on the phone I still talk to ASU, UCLA and Cal mainly. I talk to those three schools.
"I talk to the Boise State guys a lot too, weekly, as well."
Arizona State, Cal and UCLA have been in contact with Book, who has thrown for 1,295 yards with 13 touchdowns and four interceptions so far this season.
Those coaching staffs wanted Book to attend summer camps but he couldn't find the time to get out to those workouts so the Pac-12 schools have held off on offers up to this point. There is definitely interest though and Book is excited about it.
"They ask me how the games are going and they ask me what's going on," Book said. "They tell me to come out to their games. They keep telling me to do well in the season and they want to see the rest of my junior year.
"Before this season they all wanted me to come to camp but I never had time for summer camps so I think they're just waiting for me to keep going through with my junior season."
Unofficial visits are also being worked on. Book has already taken a trip to Cal this season and he's working on his schedule to see if a Boise State game could be a possibility as well.
"I've been trying to find time to go to a Boise State game," Book said. "Their schedule really isn't working out with my schedule. We were trying to go to a Boise State game. I went to the Cal game when they played Sacramento State. I'll probably try to go to the Cal-UCLA game, too."