Black sets one official visit, remains open in recruitment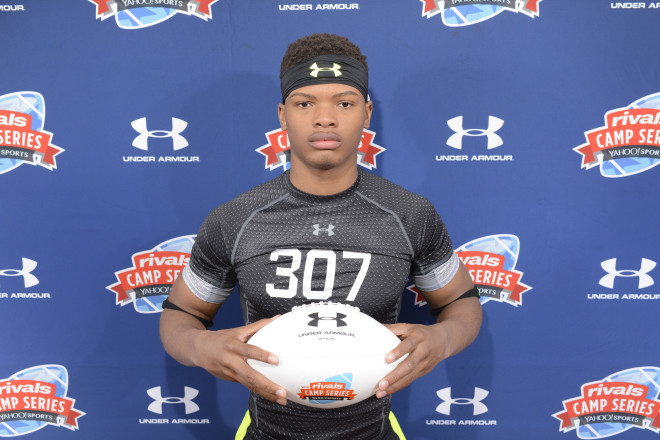 ATLANTA -- Since picking up his first offer from Syracuse over two years ago, four-star wide Tarik Black has become one of the more sought after wide receivers in the country. Now he has trimmed his list down to five schools, but remains open to other top programs.
UCLA, Michigan, Stanford, Notre Dame and Alabama remain Black's top five, but unlike a recent statement when he had the Bruins at the top, the Cheshire, Conn., native has now has re-opened his list.
"UCLA is one of my favorites, but I wouldn't say that they're the favorite. They're all pretty equal," said Black. "I'm also looking at other schools outside of that too. I'm looking at Nebraska, Georgia, Auburn and Texas A&M. I'm open to new offers."
Black did mention that Stanford, Nebraska, UCLA and Notre Dame are currently recruiting him the hardest.
The Cardinal, who have been one of Black's top schools since they offered, have an interesting advantage over the other programs recruiting him since he is good friends with quarterback commitment Davis Mills. Black met the Georgia-based Mills at an All-Star event.
"That's my guy," said Black. "We've known each other since the ninth grade and since then we've had a good relationship. Once he committed to Stanford, he's been recruiting me really hard."
They have become such good friends that Black stayed with Davis while on a recent visit to Georgia.
"I went down for a 7-on-7 tournament and our connection is pretty good," he said. "It definitely gives me something to think about."
A major step for any Stanford recruit is the application process, which can be lengthy.
"Yeah, they recently sent me the application and I just got started on that," he said. "Hopefully I get that done soon so I can find out if I get admitted."
Black's most recent visit was to Notre Dame in March and he will be going back to South Bend later this month. After that, he will be making a return trip to the West Coast to UCLA and Stanford and then a Southern swing that will include a camp at Alabama, plus possible stops at Georgia and Auburn.
Aside from summer visits, Black has also scheduled his first official visit, which will be to UCLA the weekend of Dec. 9. Other visits are in the works, but nothing has yet been decided.
A commitment from Black may come by the end of the summer, but look for Black to still take visits during the fall and then make a final decision around the New Year.