Black eyes Big 12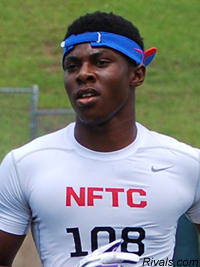 Shreveport (La.) Woodlawn three-star cornerback
Henry Black
recently received big news when
Texas Tech
and
Baylor
extended scholarship offers. Black immediately scheduled official visits to Waco and Lubbock.
Over the weekend, Black took his first official visit to Texas Tech where he was hosted by Red Raider linebacker Dakota Allen.
"I made it out and I enjoyed myself," Black said. "I liked how interested the coaches were in me and all the food."
The people and the atmosphere definitely stood out. He enjoyed meeting the players and seeing the campus and felt he was able to develop a bond with the people in Lubbock.
Next is a visit to Baylor, and really he is looking for one thing out of the visit.
"How comfortable I am with the players," Black said. "That's basically what I'm looking for in a college. How comfortable I am and all of the relationships I have with the coaches."
He does not have any official visit plans for the final weekend of January, but
Arkansas
is one school who could factor into the mix. Right now though he has his choices pretty much narrowed down to Baylor and Texas Tech with neither holding the edge.
Both programs have already made a strong case to be his future college destination.
"Coach
David Gibbs
, he's been recruiting me from
Houston
and when he got to Tech he offered me," Black said. "Baylor they've known me since my sophomore year when I went to camp."
As for making his final decision, Black plans to let it happen when it happens
"I'll make a decision whenever I feel I need to make a decision," Black said.
Black is currently ranked No. 41 in the Rivals.com Louisiana Postseason Top 50. He earned first-team all-district and honorable mention all-state after recording 53 tackles, five interceptions, 19 pass break-ups, two forced fumbles, a fumble recovery and a defensive touchdown.