Biggers is a big deal in Miami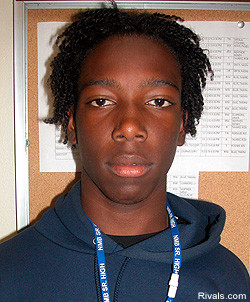 MIAMI -
When you're a high-level Division I recruit like North Miami Beach, Fla., star athlete
E.J. Biggers
, you might get offended when your coach calls you the second best player to ever come through your school. But when the best player ever is current Georgia superstar lineman and future NFL first-rounder
Max Jean-Giles
, you should still take that as a compliment.
That's the story for Biggers, a 5-foot-11, 178-pound athlete/quarterback, that is one of the most explosive and exciting players in Dade County.
"He's the second best player that we've ever had here," North Miami Beach coach Jeff Bertani said. "I went to school here, so I know the school's history. He just wins games for us. He wills us to wins."
That's definitely been the case the past two years.
Biggers, who plays quarterback and defensive back but could project on either side of the ball in college, has racked up more than 2,584 yards passing and 28 touchdown passes in two years. He was named first-team all-Dade County as a junior as a defensive back, a credit to his talent even though he spends most of his time on the offensive side of the ball.
"He reminds me a lot of Roscoe Parrish," Bertani said. "He's a thinker out there on the field. He lets his God-given talent do a lot, but he also plays really smart. He really understands the game and has great football knowledge. He'll be a three-year starter for us."
And he's really grown in those three years – especially in a leadership role.
Bigger did have bigger offensive stats as a sophomore when he threw for 1,532 yards and 21 scores. But he really blossomed last year and helped North Miami Beach reach the state playoffs, despite playing an impossible schedule that features Miami Edison, Miami Northwestern and Carol City.
"He's doing all of this against the best of the best," his coach said. "But we really knew he was something special when we played Carol City as a sophomore. He brought us back and helped us almost win that game. Their game plan was to hit him and hit him and hit him again. But he shows up in the big games.
"Weather is about the only thing that can stop him."
Biggers admits that he wants a shot at playing quarterback on the next level. It's a spot his coach thinks he can fill quite well – if he's in the right situation.
"He might have to find the right system to play quarterback," Bertani said. "But he always put the ball on the money and is very accurate. He's also got great athletic ability and can escape from the pocket. If he finds the right school that doesn't need their quarterbacks to be 6-3, then he can be a real success. I have little doubt that if he's given a chance he can do it."
Despite all of the hype and the big target that's on his back, Biggers has done a good job of remaining level-headed.
"He's very humble," Bertani said. "He's worked hard to get to this point. E.J. realizes he has some limitations, but the only thing that is going to stop him is himself. And he's not going to let that happen."