Big Ten spotlight: Ranking the 2018 quarterback situations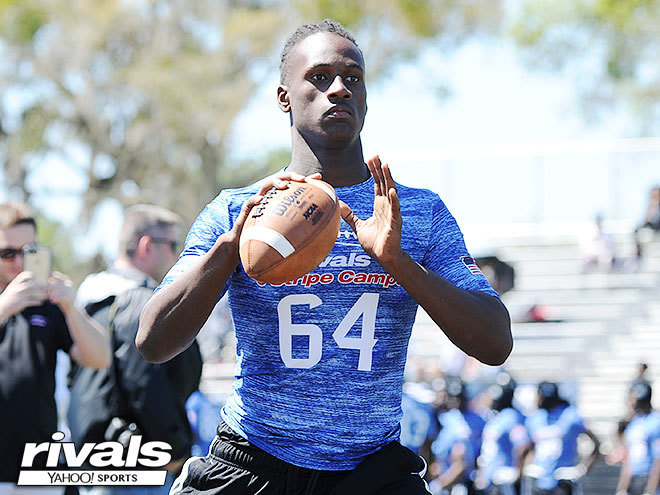 It has not been a particularly impressive quarterback recruiting effort in 2018 for the Big Ten thus far, with more teams being without a commit at the position than there are those with four- or five-star commits. Yet, we still give a shot at ranking all 14 quarterback recruiting situations in the conference.
CONFERENCE SPOTLIGHTS: SEC | ACC | Pac-12 | Big 12

1. MICHIGAN
The situation: Michigan struck in May by landing four-star dual-threat Joe Milton, the No. 105 prospect in the 2018 class, and the Wolverines doubled down just a couple weeks back when they added three-star pro-style passer Kevin Doyle from Washington, D.C. The combination of those two commits, along with the tenuous situation in Columbus with OSU's five-star commit, gives the Wolverines the nod for having the best 2018 quarterback situation in the Big Ten right now.

2. OHIO STATE
The situation: After putting out a handful of offers to then-sophomores, Ohio State landed the commitment of five-star Emory Jones in July of 2016. Done and done, right? Not so fast. As the signing periods have approached, Jones has had wandering eyes and made a couple trips to Alabama. The concern in Columbus is serious enough that Ohio State has started to reach out to other quarterbacks this fall, including Kentucky commit Jarren Williams and Virginia Tech commit Quincy Patterson.
3. ILLINOIS
The situation: Offensive coordinator Garrick McGhee was searching for the right quarterback who could execute his offense coming into this 2018 class. The response was so great, however, that the Fighting Illini ended up cutting one of their commitments in three-star Georgia dual-threat Cordell Littlejohn. That still leaves M.J. Rivers and Coran Taylor, the latter of which was Illinois' first commit in the 2018 class and one of four in-state commits.
4. NORTHWESTERN
The situation: Pat Fitzgerald used to be known for a slow, methodical recruiting game plan, but not any more. The Wildcats had lapped most of the field by the time the spring evaluation period began, landing all but three of their current commits before that time. The catalyst to that fast start to the 2018 class was Jason Whittaker, who became Northwestern's first commit last December, picking the Wildcats over Indiana, Iowa State and others.
5. MICHIGAN STATE
The situation: Mark Dantonio has perfected the art of taking the drama out of quarterback recruiting. The Spartans currently have a string of five straight classes in which they have landed one of their top quarterback targets before May of the junior year. That includes the 2019 class, after they scored a commitment from Rivals100 passer Dwan Mathis just last month. Theo Day was secured last February, just a month after he picked up an offer from the home-state Spartans.
6. MARYLAND
The situation: D.J. Durkin went into fall camp with a four-man battle at the quarterback position, but the number of available signal callers from that group has shrunk to two after sophomore Tyrrell Pigrome and freshman Kasim Hill went down with season-ending knee injuries. The long-term depth of the position is strong, and will be bolstered with the addition of Tyler DeSue, a crisp-passing quarterback who has been on the recruiting scene a long time already, in this 2018 class.

7. PENN STATE
The situation: Unfortunately for the Nittany Lions, this quarterback recruiting cycle will be remembered for the one that got away. Five-star Justin Fields made a commitment to Penn State last December, but backed off that pledge in June and committed to Georgia on Friday. Coach James Franklin and Co., rebounded, though, by adding a commitment in July from Will Levis, who had generated a lot of positive buzz after a string of summer camps.

8. MINNESOTA
The situation: After a breakout sophomore campaign, Brennan Armstrong reeled in offers from both Power Five and Group of Five programs. The Ohio native bided his time, however, as he waited for the right opportunity to present itself. That opportunity came in the form of P.J. Fleck, who had offered Armstrong at Western Michigan, and then offered him again when he got to Minnesota. The dual-threat left-hander will give the Gophers depth and versatility when he arrives in Minneapolis.
9. PURDUE
The situation: A former NFL quarterback who was a long-time quarterbacks coach and offensive coordinator before becoming a head coach, Jeff Brohm is going to be expected to be among the Big Ten's best at identifying quarterback talent. Jack Plummer was the second commit for the Boilermakers in the class and has continued to draw interest from programs that have remaining quarterback needs in 2018.
10. WISCONSIN
The situation: Quarterback recruiting in the 2018 cycle for Wisconsin will probably be best remembered for the very public and very publicized break-up with previous commit Ben Bryant. From a talent standpoint the Badgers end up with a pretty even trade by getting Chase Wolf, who held offers from Florida, Maryland, Rutgers and South Carolina despite sitting behind class of 2017 four-star and current Penn State quarterback Sean Clifford for much of the previous two seasons.

11. RUTGERS
The situation: It was a slow start to Chris Ash's 2018 class, but once things got going in Piscataway, the Scarlet Knights quickly took care of the quarterback position, and they went all the way out to California to get it done. Offensive coordinator Jerry Kill identified Jalen Chatman and Rutgers was the first Power Five school to extend him an offer. After a cross-country flight to see the school in-person, Chatman made the call for Rutgers and has since been back to take his official visit.

12. INDIANA
The situation: Even back when Kevin Wilson and his wide-open offense were heading the Indiana program, the Hoosiers have had trouble attracting quarterback talent. They scrambled to add a body late in the 2017 class, and still do not have a true quarterback committed in 2018. Three-star athlete commit Reese Taylor is a tremendous high school quarterback, but he is tabbed to play cornerback in Bloomington. A couple offers are out to uncommitted prospects in Florida, but the Hoosiers are running out of time.

13. IOWA
The situation: Like Indiana, Iowa has a high school quarterback in Samson Evans on its commitment list, but he is an athlete prospect and expected to play wide receiver in college. The Hawkeyes struck out with their early targets, but still plan to take a quarterback in 2018. They recently scouted North Dakota State commit Trey Lance and have also been taking a look at Florida three-star Carter Bradley.
14. NEBRASKA
The situation: The school that is most likely to not sign a quarterback in the Big Ten for the 2018 cycle is Nebraska, and the reason is because it's just not a high priority for the Cornhuskers. They signed four-stars Tristan Gebbia and Patrick O'Brien in the previous two classes and are putting a bigger emphasis on recruiting the position in 2019. Nebraska could bring in a quarterback or two for official visits later in the process, with Oregon State commit Spencer Petras and Florida commit Matt Corral among those they have kept tabs on.