Big Ten spotlight: Five recruiters off to hot starts to 2018
The Big Ten featured 2017's National Recruiter of the Year in Ohio State assistant coach Kerry Coombs, so what is the conference doing for an encore? Here is a look at five recruiters who are off to hot starts in the 2018 class.
Nebraska CB coach Donte Williams
Biggest get: Brendan Radley-Hiles
Nebraska's emerging California pipeline has gotten a lot of press, and a nickname – "Calibraska" – and one of the catalysts is Williams, the Cornhuskers' cornerbacks coach. He has teamed with wide receivers coach Keith Williams to bring in four-star athlete Eric Fuller and four-star wide receiver Chase Williams, and also got Nebraska's current headliner of the 2018 class, cornerback Brendan Radley-Hiles, who is ranked as the No. 36 player in the 2018 class. His haul could become more impressive with four-stars Mario Goodrich and Brian Addison giving off good vibes about the Cornhuskers. Williams' recruiting prowess was cited by head coach Mike Riley when he brought the young assistant over from Arizona following the 2016 season, and he is delivering in year one of his tenure in Lincoln.

Ohio State DL coach Larry Johnson
Biggest get: Taron Vincent
After just missing out on a national recruiting title in the 2017 class, Ohio State is making a run back to the top of the rankings with a strong month of April. That month started with a five-star bang, when defensive tackle Taron Vincent made his commitment to the Buckeyes on April 2. Four more commitments would follow before the month was out, including four-star Georgia defensive end Brenton Cox. Both Vincent and Cox were recruited to Columbus by Johnson, Ohio State's assistant head coach and defensive line coach. The long-time Big Ten assistant has been lauded for his work with the Buckeyes' defensive line unit, but he should not be overlooked as a recruiter.

Penn State LB coach Brent Pry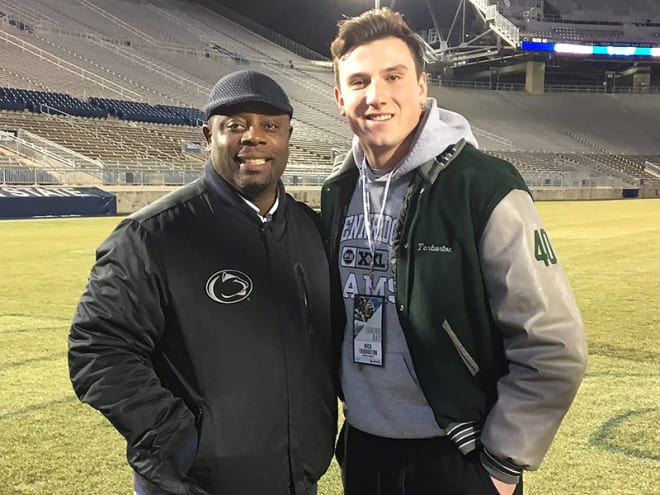 Biggest get: Nick Tarburton
The Big Ten's top-ranked recruiting class currently sits with the Penn State Nittany Lions, who do things a bit different when it comes to assigning assistant coaches to recruit prospects. Instead of having one, main recruiter for a prospect, the entire offensive or defensive staff gets involve with each player they are recruiting. That makes singling out one staffer difficult, but three of the Nittany Lions' 12 commitments are linebackers and that is the unit Brent Pry leads, and is vital to recruiting. Rivals100 linebacker Nick Tarburton is the biggest prize thus far, but four-star Jessie Luketa and three-star Charlie Katshir are also on-board in this 2018 class to bulk up the Nittany Lions' future linebacker corps. Pry is also the associate head coach and defensive coordinator and came to State College from Vanderbilt with head coach James Franklin in 2014.
Minnesota DB coach Maurice Linguist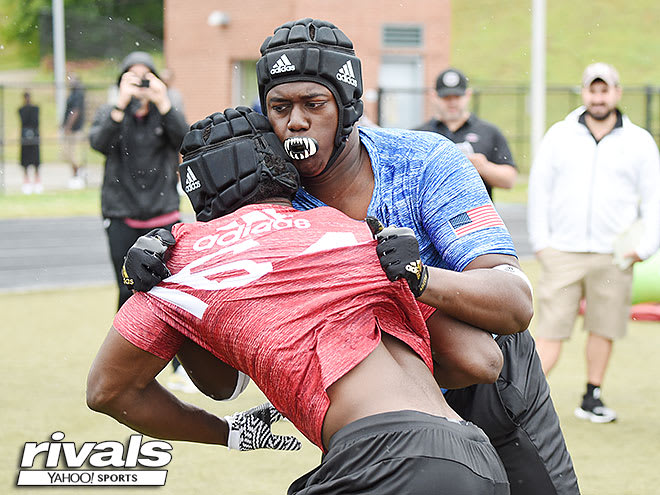 Biggest get: Oyenmwen Uzebu
Now that he is in the Big Ten, very few coaches are going to outhustle P.J. Fleck on the recruiting trail. Minnesota having 13 commitments before May, though, is still an awfully impressive feat for a coach just four months on the job. The fact that four of those commitments have been convinced to leave the state of Georgia for the Land of 10,000 Lakes, and each had multiple other Power Five options besides Minnesota, augments that accomplishment. Linguist heads Minnesota's recruiting efforts in the state of Georgia and deserves a lot of credit. He also helps recruit most of the Gophers' defensive back targets, and played a role in landing their first commit in the class, three-star in-state cornerback Benjamin Sapp.

Northwestern LB coach Randy Bates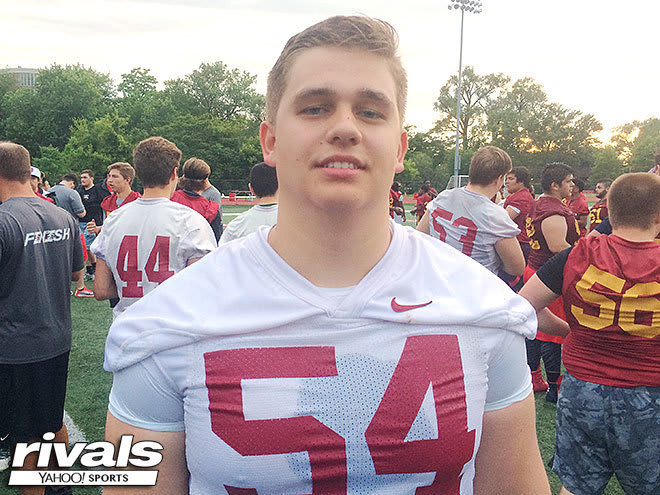 Biggest get: Wyatt Blake
This 2018 class highlights a dramatic shift in recruiting philosophy from Pat Fitzgerald's first 10 years at the helm in Evanston. The Wildcats were always known as late-starters on the recruiting trail, but have raced out 13 commitments already in the 2018 class, tied for tops among all Big Ten programs. Consider that in the four classes between 2013 and 2016, Northwestern had just one eventual signee who committed before April of their junior years. Between the 2017 and 2018 classes, though, Northwestern has now had 15 commitments come in before April. Bates, the Wildcats' linebacker coach, has been with Fitzgerald for all 11 years in Evanston and has adapted to the accelerated recruiting approach quickly. He recruits the Houston area, which has been fruitful for the Wildcats over the years, and is responsible for bringing in five of those 13 commitments.