Big Ten Signing Day breakdown
The Big Ten had an overall strong performance in the 2016 class, placing two conference programs in the top four nationally. Here we break down the biggest storylines of the class out of the Big Ten Conference.

RELATED: SEC Breakdown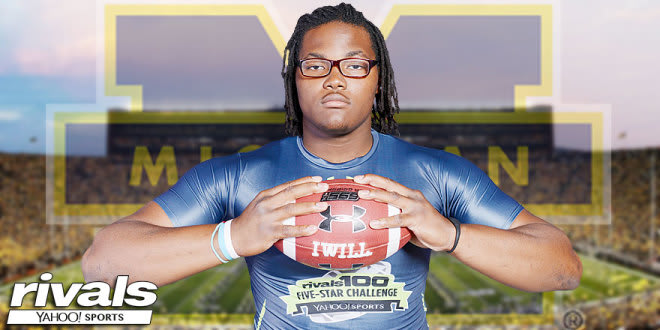 Biggest victory: Michigan signs No. 1 Rashan Gary
This one has to go to Michigan for landing five-star defensive tackle Rashan Gary out of Paramus (N.J.) Catholic. Gary is the first No. 1 overall prospect to sign with a Big Ten program since Ohio State landed Terrelle Pryor in the 2008 class. Michigan was considered the team to beat for the majority of Gary's recruitment, but his decision did not come until National Signing Day.
The Wolverines had a distinct advantage with Gary. Shortly after being named Michigan's head coach, Jim Harbaugh hired Paramus Catholic head coach Chris Partridge to run his recruiting office in Ann Arbor. Despite his head coach now being his primary recruiter at Michigan, though, Gary went through the full recruiting process, taking official visits to Auburn, Ole Miss, USC and Clemson down the stretch. Clemson proved to be the biggest threat, but Michigan was able to hold on and land Gary's signature.
Biggest loss: Dwayne Haskins Jr. flips from Maryland to Ohio State
One of the first priorities on the recruiting trail for a new coach coming in is getting his quarterback of the future. For new Maryland head coach D.J. Durkin that quarterback was already on the commitment list and he was a good one: four-star and Rivals100 member Dwayne Haskins Jr. The task for Durkin, then, was hanging onto Haskins for the final two months of the process, and that proved difficult.
Florida, LSU and Ohio State all came after Haskins hard, and he took several official visits. In a particularly cruel twist of fate for the Terrapins, Haskins decided to stay in the Big Ten and flipped to Ohio State in mid-January. Durkin did end up getting his quarterback in 2016, flipping two-star Indianapolis native Max Bortenschlager from Buffalo days before the signing period opened, but that will do little to assuage Maryland fans' melancholy over losing a Rivals100 quarterback.
Best Storyline: Michigan-Ohio State battle for Big Ten title
College football fans across the country were looking forward to the recruiting battles that would take place between Michigan and Ohio State head coaches Jim Harbaugh and Urban Meyer. On a macro level that battle certainly occurred in 2016, with the Buckeyes edging Michigan for the Big Ten title and the two programs finishing third and fourth, respectively, in the national team rankings.
On a micro level, though, there were very few head-to-head battles between the Buckeyes and Wolverines in 2016. Michigan signed zero recruits from the state of Ohio – a region they have relied on heavily in the past for talent – and nationally there were only a handful of recruitments where both teams were strong players.
Some of the most notable recruitments that featured both Big Ten programs prominently happened in the greater Detroit area. Ohio State went into Michigan's backyard to nab Rivals100 offensive tackle Michael Jordan, while the Wolverines held off the Buckeyes and others to keep Rivals250 offensive guard Michael Onwenu in-state. They both were finalists for Rivals100 wide receiver Donnie Corley, but saw the Detroit prospect choose Michigan State.
Biggest surprise: Michigan State signs top 20 class despite slow finish
The disappointments of National Signing Day have cast a shadow over what was an otherwise outstanding recruiting class for Michigan State. After residing in the top 10 of the national recruiting rankings for much of the final two months, the Spartans finished No. 20 in the 2016 class. However, that was the second-best finish in the Mark Dantonio era and their average star rating of 3.50 was 13th in the country.

Of Michigan State's 18 commitments, just two committed after Aug. 1 of last year. The Spartans landed Rivals100 wide receiver Donnie Corley at the Army All-American Bowl and convinced former Purdue commit Luke Campbell to jump onboard late in January.
Still, the Spartans were in on several four-stars down the stretch and were not able to reel any in. The disappointment was compounded when it was revealed during National Signing Day week that Rivals250 defensive end Auston Robertson would not be part of the class. This is a class that will bring in top talent – 10 four-stars – and give the Spartans additional momentum going into 2017 after coming off a College Football Playoff appearance this past season.
Biggest disappointment: Rutgers
The recent move to the Big Ten Conference and a strong in-state recruiting class should have been a recipe for success for Rutgers in 2016, but turmoil within the program and a mid-season coaching change resulted in a disappointing first class for new head coach Chris Ash. The final result was Rutgers finishing with the last-ranked recruiting class in the Big Ten and the No. 78 overall class in the country.
Particularly painful for the Scarlet Knights is the fact that the state of New Jersey boasted nine four- and five-star prospects in the 2016 class, and none decided to play for the state school. In fact, Rutgers saw the top 16 players in New Jersey all leave the state. It also had several disappointments down the stretch, losing wide receiver Taysir Mack and kicker Alex Barbir to other Big Ten programs while seeing three-star linebacker Dele' Harding sign with Illinois when it looked like Rutgers had a good shot.
Most drama leading up to Signing Day: Nebraska
With two weeks until National Signing Day, Nebraska fans were getting restless. It has been a couple months since their team had received a commitment in the 2016 class and spots still needed to be filled. The drought was broken by three-star safety Tony Butler, a former Pitt commit, who pledged to the Cornhuskers on Jan. 22. Three-star linebackers Pernell Jefferson and Collin Miller followed that weekend and their top offensive line target, Matt Farniok of South Dakota, joined the class on Jan. 27.
The news was not all positive for Nebraska, though. It was well-known that Rivals250 wide receiver Desmond Fitzpatrick was planning to select the Cornhuskers on Feb. 1 and a final weekend official visit to Louisville was supposed to be just procedure. The Cardinals made the unlikely reality, though, and nabbed the four-star two days before National Signing Day. Nebraska rebounded quickly, though. The Huskers grabbed Rivals100 athlete Lamar Jackson the next day, and a late offer to in-state tight end David Engelhaupt was also accepted. Six commits in less than two weeks and plenty of action highlighted a very busy end to the recruiting period for Nebraska.
Biggest Signing Day surprise: Indiana steals Taysir Mack from Rutgers
Brooklyn, N.Y. three-star wide receiver Taysir Mack committed to Rutgers last summer and maintained that commitment throughout the Scarlet Knights' coaching transition in the fall. He did have several other schools come after him, but turned down a chance to visit Penn State after the Nittany Lions extended a late offer in January and was reportedly set to sign with Rutgers after visiting Piscataway the final weekend of January.
The only other official visit Mack did take, though, was to Indiana the weekend prior to visiting Rutgers. That trip did not generate much chatter in the final days of his recruitment, but when the playmaking wide receiver revealed his destination on National Signing Day he surprised with the announcement that he had signed with the Hoosiers. For Kevin Wilson and staff to overcome two other Big Ten programs that are located much closer to Mack's home, this was the biggest Big Ten signing day surprise.
My pick for 2016 Big Ten Freshman of the Year: Donnie Corley, Michigan State
There are a lot of options here, including five-stars Rashan Gary (Michigan), Nick Bosa (Ohio State) and Keandre Jones (Ohio State). However, Rivals100 wide receiver Donnie Corley is already enrolled and on campus in East Lansing, and has reportedly been very impressive in early winter workouts. On top of that, he is going into a great situation for early playing time with the Spartans, losing two of their top three receivers from last season, including all-Big Ten first-teamer Aaron Burbridge.
Freshmen have the easiest time making an immediate impact at wide receiver because the transition from high school to college is not as great as it is at other positions. At 6-foot-3 and 185 pounds, Corley has a developed frame and his qualities of outstanding route-running and sure hands should make him a favorite target for the new Michigan State quarterback early in his career.