Big Ten East Spotlight: Sleeper commits by school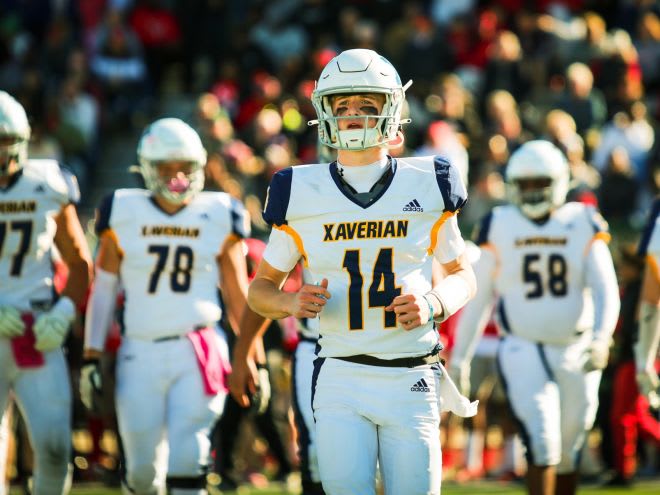 The evaluation process is ever evolving and oftentimes the value of a recruit is in the eye of the beholder. While many players live up to their rating, there are many others who never achieve the greatness they were once destined for. Likewise, there are countless examples of undervalued recruits who silence the naysayers and defy the odds to become great players at the college level and beyond.
Today we attempt to identify one commit from each Big Ten East school who has the ability to go from an undervalued prospect to a future star at the college level and beyond.
INDIANA
The Carmel (Ind.) standout receives rave reviews from his high school coaches and whether you have seen him in person - or on film - you can see exactly why his coaches are excited about his future on the field. Peterson can flat out cover, is fluid in the hips, has an incredible burst and plays a physical brand of football. He has also proven to be a weapon with the ball in his hands which projects well in the return game and also makes him dynamic enough to be used on offense if needed. As a 5.5 three-star, Peterson is likely underrated right now and he has every tool to be a difference maker early on in his career at Indiana.
MARYLAND
With a plus frame and speed to stretch the field, Powell-Wonson fits the mold of many past 5.5 three-star recruits who have gone on to star at the college level. He is a slippery route runner who tracks the ball well with the body control and catch radius to make the difficult reception. The Baltimore (Md.) City College High standout becomes even more intriguing when you picture him in Mike Locksley's offense where he will have more than ample opportunities to make big plays. Although somewhat raw right now, and still growing into his frame, the young receiver has an incredibly high ceiling.
MICHIGAN
There weren't many options for a sleeper pick here due to the caliber of commits in Michigan's 2024 class,. That being said, two-star linebacker Zach Ludwig is the perfect sleeper candidate. At 6-foot-2 and weighing 205 pounds, he will have to bulk up to be a dominant linebacker in the Big Ten, but has the frame to do so and Michigan's strength program is one of the nation's best. Three aspects of Ludwig's game stand out when projecting his upside - he explodes through the ball carrier on contact, his overall athleticism and versatility as a player. Playing quarterback, linebacker and even punting, Ludwig is a jack of all trades for his South Park (Pa.) team and I have little question the Michigan staff will find a role for him to thrive in.
MICHIGAN STATE
Hasselbeck shows flashes of greatness on film and the young quarterback has too much going in his favor for me not to choose him as the Spartan's sleeper. The Westwood (Mass.) Xaverian Brothers signal caller has phenomenal mechanics for a junior in high school, reads the field like a book, throws a nice deep ball and is accurate to boot. He is also a better athlete than one may assume as he was a onetime Maryland Lacrosse commit. Throw in the fact that his father, Matt Hasselbeck, was a three-time Pro Bowler who threw for over 36,000 yards in his NFL career and you can see why there is plenty to be excited about here. I think Michigan State is getting a steal and Hasselbeck has a chance to put up big numbers for years to come in East Lansing.
OHIO STATE
Ohio State's sleeper candidates are limited due to how highly the class is rated, but I definitely see one in safety commit Jaylen McClain. There is a reason the West Orange (N.J.) Seton Hall Prep safety was highly coveted by numerous elite programs and as a 5.6 three-star chances are that he will outplay his rating. McClain was a fast riser and when you turn on the film you can see why. While he may lack an obvious elite trait, the future Buckeye has little weakness to his game. He can cover like a corner and has both the range and physicality of a safety. McClains's positional versatility stands out as his skill-set will enable him lineup at numerous spots in the secondary which will also open the playbook from a schematic standpoint. This is a high floor and high ceiling player with NFL potential.
PENN STATE
Sexton is somewhat raw and will need to add plenty of mass in order to be a dominant lineman in the Big Ten, but he has every tool to be a special player at Penn State and beyond. You love his height, length , flashes of bend and overall athleticism. The Hartland (Wis.) Arrowhead standout was somewhat of a late bloomer as he is still growing into his frame, developing his body mechanics and gaining strength - All of which are likely to come after time spent in a college program. Sexton has all of the traits you look for in a sleeper and he has a chance to be an elite player once everything comes together.
RUTGERS
The Gahanna (Ohio) Lincoln defensive end is a pure upside play and that is what we look for in a sleeper candidate. Like many on others on this list, King is at a raw stage in his development and that is something you love as his best football is in front of him. Long and athletic pass rushers who are college ready, and beyond the raw stage of their development, are typically in the five-star conversation. King may not be there yet, but nothing is stopping him from being that type of player should he hit the ground running at Rutgers. While it may be a year or two before he makes an impact for the Scarlet Knights - King has a chance to be a lethal pass rusher if he reaches his ceiling as a player.