Big Ten Breakdown: Inside the numbers
National Signing Day 2017 is less than three months away, so this week we take a look at some of the more interesting numbers coming out of the Big Ten for this class, and the next.
867 - Ohio State's point lead in the Big Ten team rankings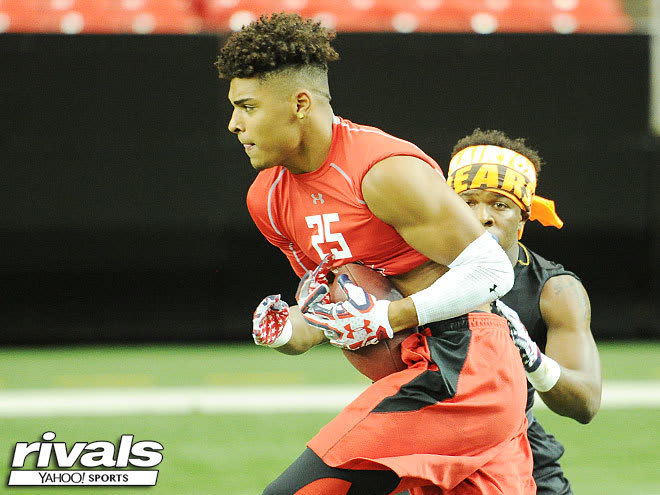 The on-field race for a Big Ten title is as tight as it has been in recent years, but off the field the Buckeyes are dominating the class of 2017 conference recruiting race. Their 2,686 total points are currently second nationally behind Alabama, but they are well ahead of their next closest Big Ten competitors Michigan (1,789) and Maryland (1,717). And, Ohio State is doing it despite having fewer commits (17) than either Michigan (18) or Maryland (19).
The Rivals team rankings are calculated using the top 20 rated prospects in a class, so Ohio State still has three more spots that will count for full points in this class. Alabama, which currently sits just 163 points ahead of the Buckeyes in the national rankings, has already surpassed 20 commits so their remaining additions will only supplant lower-rated commits. The Buckeyes could add 5.5 rated three-stars for their next three spots and pass a static Alabama class.
In the Big Ten, Ohio State's dominance in this 2017 class is also demonstrated by their average of 158 points per recruit, compared to Michigan's 99.4 points per recruit, Penn State's 91.8 points per recruit and Maryland's 90.4 points per recruit. Putting it another way, the Buckeyes' average 2017 commit is the No. 75 player in the class.

6 - Most five-stars signed in one class by the Big Ten
This mark has stood for 12 years, but is in jeopardy of falling with this 2017 class. Already there are five five-star commits pledged to Big Ten schools, with Ohio State holding four of those commitments. Since the Big Ten expanded to 14 teams in 2014, they have only signed a total of seven five-star prospects. The six five-stars were signed in the 2005 class, and the conference has signed five five-stars in one class three times, with the most recent being in 2007.
The reason why the current mark is in jeopardy of falling is because there are 16 five-star commits still uncommitted in the 2017 class and many are still considering Big Ten programs. Nebraska has already hosted five-stars Joseph Lewis and Foster Sarell for official visits while Michigan has hosted five-stars Baron Browning and Nico Collins for official visits. Five-star wide receiver Donovan Peoples-Jones has three Big Ten programs in his final five, while five-star offensive tackle Isaiah Wilson has two and several more five-stars continue to consider Big Ten programs.
3.09 - Average star rating for Illinois' 2017 class
If this number holds up it would be the highest average star rating for an Illinois class in the Rivals era, and only the third time the Fighting Illini have averaged three-stars in a class. Considering the hurdles first-year head coach Lovie Smith had to clear with starting when most schools were well into their 2017 recruiting game plan, this would be a monumental accomplishment if it holds up.
Illinois' 11 commits are the fewest in the Big Ten and that is a reflection of the handicap Smith and his staff are dealing with by taking over the program in March. The average star rating, though, shows the Illini are getting a lot of bang for their buck. And, this class is almost entirely built by Smith, who has just one holdover commit – Florida running back Mike Epstein – from the previous regime.
89 - Wisconsin's current projected scholarship count for 2017
While Smith certainly faces challenges in this 2017 class at Illinois, Paul Chryst and his staff up in Madison are facing challenges of a different sort. The issue at hand is limited space for the 2017 class, and a current commitment count that already puts the Badgers over the 85 scholarship players they are allowed to have on the roster to start the 2017 season.
The Badgers went on a commitment binge last week, landing four commitments in the span of three days. That brought their 2017 commitment count to 15, and their 2017 projected scholarship count to 89. Attrition over the course of an off-season is always expected, but one of the reasons Wisconsin is in this position now is because Chryst has seen remarkably low attrition rates since taking over the program two years ago. Make no mistake, that is a positive, but it is causing a scholarship crunch in Madison.

14 – Class of 2018 Big Ten commitments
The on-field product coming out of the Big Ten this season has been outstanding, but the effect on the conference's recruiting has lagged behind. Although it is early, the Big Ten's 14 commitments in the 2018 class is second lowest among Power Five Conferences, with only the Pac-12's 11 coming in lower. The ACC fields the most 2018 commits with 30, followed by the SEC with 20 and the Big 12's 18.
At this time last year, Ohio State had 11 commits from junior prospects all by itself. The current 14 Big Ten junior commits are spread among just seven schools, with half of the conference still waiting on its first 2018 commitment. Penn State currently leads the way in 2018 with four commitments, including Rivals250 prospects Patrick Freiermuth, Micah Parsons and Justin Shorter.