Big offer might come for Mathis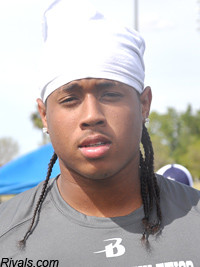 LAS VEGAS -
Joe Mathis
does not plan to have a top five until late summer and he has taken a step back from the recruiting process but new interest from the SEC has perked things up and big news could be coming for the Upland, Calif., defensive end.
The four-star who was playing linebacker this weekend at the New Level Athletics Elite 7on7 tournament said Alabama might offer early this week - and it would clearly be something to seriously consider.
"Alabama could offer me on Monday so I hope it's coming," Mathis said. "It would be huge. Like I said, that's a good school and I'd be honored to get offered by them. That would be great.
"I have family down south and I have family everywhere so it's not a big deal going that far."
Mathis, a 6-foot-4, 254-pound defensive end, had been committed to Washington much earlier in the recruiting process but decided to open things back up. Once he did, a flood offers came and now he's sitting with around 30 offers.
Because so many programs are involved, Mathis said he's going to remain patient until September when he wants to narrow his list, take visits and then make his decision after his senior season.
"I'm just having fun with it and taking it slowly," Mathis said. "I'm going to decide my top five in September. I think I'll have that ready about a week before the season.
"I'm really happy. I'm happy now and it's really a relief for me. It's nice not to think about recruiting every day. I think about 10 schools are in the running right now and then I'll narrow it down to a top five."
Mathis, rated as the ninth-best strong-side defensive end and No. 93 prospect in the 2013 class by Rivals.com, is planning a visit to Nebraska in April.
He wore a Nebraska baseball cap on Sunday at the 7on7 tournament but promised it wasn't a hint as to his college destination.