Big 12 Spotlight: Top targets as Late Signing Period approaches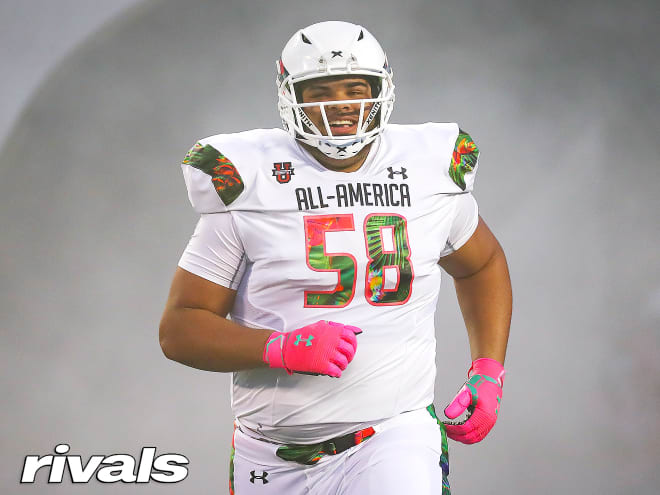 MORE: Top remaining Big Ten targets | SEC | ACC | Pac-12
National Signing Day is less than a week away, and while some teams have already finished their 2019 recruiting class, others still have some very important targets out there. Take a look at each Big 12 program's top remaining targets.
BAYLOR
Matt Rhule is looking to finish a top-40 recruiting class on a high note by adding out-of-state targets Garmon Randolph and Paul Matavao-Poualii.
Randolph, a three-star tight end, is down to Baylor and LSU. Baylor views the 6-foot-6, 220-pounder as a defensive end while LSU prefers him at tight end. He'll head to Baton Rouge this weekend and decide between both the Big 12 and the SEC and playing offense or defense.
Like Randolph, there are multiple teams still in play for Matavao-Poialii. Baylor, Fresno State, Hawaii and Oregon State have hosted the three-star guard already, and Kansas will get him on campus this weekend. While he's coveted by a handful of Big 12 programs, including the Bears, Oregon State poses the truest competition for the West Coast prospect.

IOWA STATE
For Matt Campbell, next Wednesday is all about standing pat. The Cyclones have engaged a lot of new names as National Signing Day nears, but the program's focus is to hold tight on the 20 signatures it received before Christmas. Iowa State flirted with Zaylin Wood and Jeremiah Pruitte, and even scratched the surface with Michigan State decommitment Alante Brown, but none made their way to campus for visits. It looks to be a quiet stroll to the finish line for Campbell this February.

KANSAS
Les Miles saw nine players sign with Kansas in December, which opens the door for a slew of action in February. The Jayhawks are hosting multiple top targets on the final weekend before Signing Day, including defensive end Steven Parker and athlete Velton Gardner. Multiple Big 12 programs, including TCU, Texas Tech and Nebraska, are after Parker. Kansas is going punch-for-punch with Texas Tech for Gardner, a one-time Texas Tech commitment.

KANSAS STATE
Kansas State has enjoyed a productive January and heads into National Signing Day going toe-to-toe with Nebraska for Arizona defensive tackle Matthew Pola-Mao. The coaching staff offered him on Monday and will get the final crack with the West Coast standout this weekend. Of course, the Wildcats will have their work cut out for them trying to make a late push away from the Huskers, which have grabbed some momentum in the month of January.

OKLAHOMA
Oklahoma is sitting pretty with the No. 4 recruiting class in the country, and after loading up on skill players in December the focus in February is up front. Hawaii four-star offensive lineman Enokk Vimahi sits atop of the Sooners' board. He officially visited Norman on Jan. 11 and has since made a stop at Ohio State (Jan. 25). USC, Utah and Notre Dame are also contenders for the Rivals250 lineman.

OKLAHOMA STATE
Mike Gundy's program has one major target left on the board heading into National Signing Day: three-star JUCO defensive end Soni Fonua. Nebraska and UCF are also in the picture, and so is LSU, which will host the pass-rusher this final weekend before a decision is made. The Tigers have yet to offer Fonua, but they may emerge as the top contender for his services if they do. If not, it should boil down to a Big 12 showdown between Nebraska and Oklahoma State, with the Huskers having the edge.

TCU
January has been awfully kind to TCU, as the Horned Frogs nabbed a trio of commitments in the aftermath of official visit weekends. As signing day approaches, the attention is on adding coveted tight end Brett Seither, who has been a TCU lean before garnering a high degree of interest from Georgia, Georgia Tech and Alabama late in the cycle. TCU is also working feverishly to keep its crowned jewel of the 2019 class in place. That, of course, is four-star tailback Darwin Barlow, who committed in the summer but did not sign in December.
TEXAS
The Longhorns received some pre-signing day fortune when five-star athlete Bru McCoy transferred to Texas within days of enrolling at USC. That's already a tremendous score for Texas on the recruiting trail in 2019, as McCoy becomes the first five-star in the team's No. 3-ranked class.
Tom Herman and his staff are looking to close out strong. They have made a late push for junior college linebacker Lakia Henry, a one-time Tennessee verbal that has decommitted amid strong pushes from Arkansas and Ole Miss. Texas entered the race late, but are hoping to finish first in this sweepstakes.

TEXAS TECH
First-year Texas Tech coach Matt Wells limped into the early signing period and managed 11 signatures. Three more prospects remain committed, but the Red Raiders are hopeful for a strong finish next week.
Tech is hoping to stave off Nebraska and Kansas for four-star in-state edge-rusher Steven Parker out of South Oak Cliff (Texas). Parker officially visited Texas Tech in December, but did not sign. He has since visited Nebraska, but the Jayhawks are also in play here -- largely due to new assistant coach Emmett Jones. Kansas will get to host Parker this weekend, which is certainly a threat to Tech's chances of landing a signature on Wednesday.

WEST VIRGINIA
New West Virginia coach Neal Brown will look to put his stamp on the Mountaineers program right away with a strong finish to this 2019 recruiting cycle. The former Troy head man inherited 16 signees in December and is dialed in on keeping one huge in-state prospect home to begin his tenure in Morgantown.
All eyes are on five-star offensive tackle Darnell Wright, a top-20 prospect in the Class of 2019 and the No. 1 player in West Virginia. Tennessee is the established front-runner, but with a new coach in place with the Mountaineers, all attention has been on Wright down the stretch. He visited Morgantown on Jan. 18 and it's shaping up to be a two-team battle.
Sure, all signs point to Wright being Tennessee's to lose. He'll head to Knoxville this weekend as the Vols look to seal the deal. Still, it's hard to ignore the emergence of Brown and West Virginia down the stretch have turned this into a more interesting storyline to follow.