Big 12 Breakdown: Top targets, needs for 2017
Commitments are beginning to flow in regularly as the spring evaluation periods give way to summer camps for the class of 2017. Here is a team-by-team look at the Big 12 as programs try to make sure their rosters are balanced among the position groups.

BAYLOR BEARS
Biggest remaining need: Defensive end
Top targets: K'Lavon Chaisson, Taquon Graham, Deonte Johnson, Dayo Odeyingbo, Isaiah Thomas
Notes: Last season, two players split the lead for sacks on Baylor's defense at 5.5 apiece. The Bears helped themselves a little bit, as their best defensive line signing in last year's class was four-star Brandon Bowen. Baylor still needs more help up front rushing the passer as it figures to enjoy another year with a high-powered offense, but more importantly needs to do a better job against the run. In Baylor's three losses last season, the Bears allowed an average of 187 rushing yards per game.
More: SicEmSports.com

IOWA STATE CYCLONES
Biggest remaining need: Defensive back
Top targets: Timarcus Davis, Gervarrius Owens, Adam Beck, Javelin Guidry, Langston Frederick
Notes: Despite finishing 33rd in the NCAA last year in getting to opposing passers, the Cyclones still managed to be one of the worst in the country in terms of passing yards allowed. Iowa State's highest-rated defensive back over the past couple of seasons has been D'Andre Payne, who is a nice player but does not an entire secondary make. If the team stays successful and committed to running the ball, it can mask the urgency at the position, but in a conference full of top-passing offenses, Iowa State is going to need more help sooner than later.
More: CycloneReport.com

KANSAS JAYHAWKS
Biggest remaining need: Offensive line
Top targets: Eleasah Anderson, Grant Polley, Derek Kersetter, Justin Hall, Dominic Pastucci
Notes: The reality with Kansas is that the Jayhawks could use help just about everywhere, but more talent and consistency up front is still a priority. Kansas hasn't offered a quarterback in this class, so protecting whomever of the young options will be looking to get the ball to incoming receivers like Reggie Roberson or Travis Jordan will be top priority. Upping its modest yards-per-carry numbers from last season should be easier with running back Dominic Williams, but he has to have space to run through first.
More: JayhawkSlant.com

KANSAS STATE WILDCATS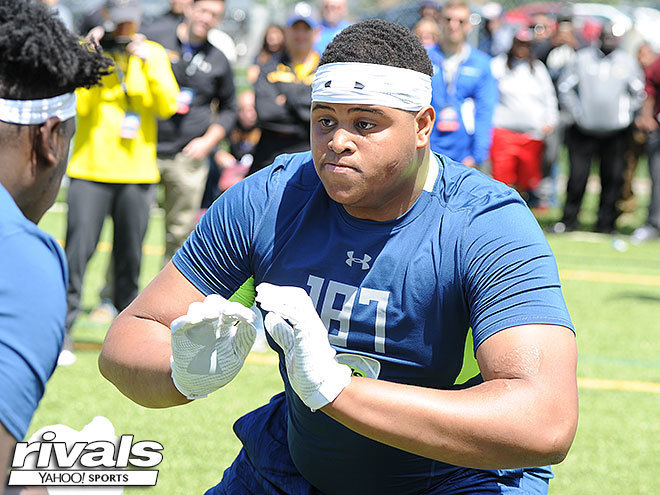 Biggest remaining need: Offensive line
Top targets: Marquis Hayes, Larry Boyd, Creed Humphrey, Josh Rivas, Broc Brando
Notes: Kansas State hasn't got itself off to a particularly quick start recruiting in 2017, but needs to find players that can protect its top commit from 2016; four-star quarterback Skylar Thompson. The Wildcats were among college football's worst at pass protection last season and wasn't able to secure a very inspiring group of offensive line commitments to follow Thompson, either. Kansas State also enters next season up front with a group top-heavy with upperclassmen, so finding more big bodies sooner than later needs to become a priority.
More: GoPowerCat.com

OKLAHOMA SOONERS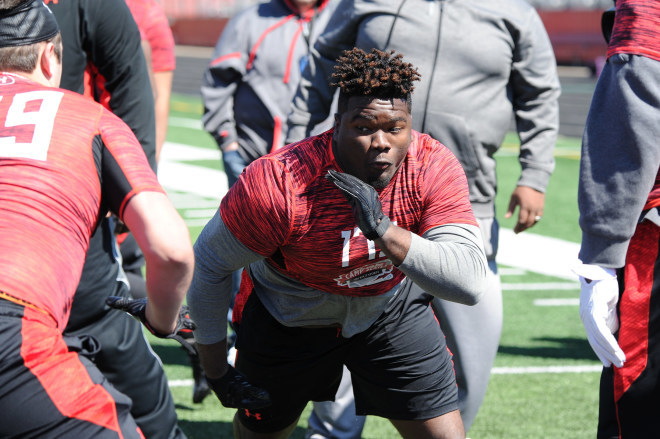 Biggest remaining need: Defensive tackle
Top targets: Marvin Wilson, Greg Rogers, Corey Bethley, Akial Byers
Notes: Oklahoma has been an early success story recruiting the 2017 class and doesn't have glaring needs. The Sooners' rushing defense did finish outside the FBS Top 50 last season and despite having a Top 20 recruiting class in 2016, it didn't feature a prominent interior defensive lineman. Oklahoma has many playmakers committed to this class but has yet to find a dominant defensive tackle.
More: SoonerScoop.com

OKLAHOMA STATE COWBOYS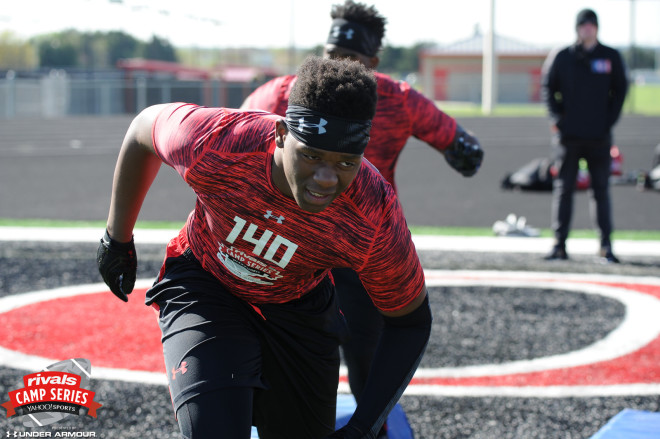 Biggest remaining need: Defensive end
Top targets: Taquon Graham, Ondario Robinson, Dayo Odeyingbo, Isaiah Thomas, Nelson Mbanasor
Notes: Oklahoma State gave up some eye-popping yardage totals last season and will need someone, preferably more than one, to step up and fill the void left by its top two pass rushers in Emmanuel Ogbah and Jimmy Bean. The Cowboys' 2016 class only yielded one edge defender and most of their efforts recruiting in 2017 have focused on the offensive group. In a conference full of potent offenses, Oklahoma State has to find a difference-maker to disrupt the rhythm and pace of opponents' collective passing games.
More: O-StateIllustrated.com

TCU HORNED FROGS
Biggest remaining need: Defensive back
Top targets: Chevin Calloway, Grant Delpit, Kary Vincent, Elijah Gates, Garret Wallow
Notes: TCU's current commits are all on the offensive side of the ball. The Horned Frogs would really benefit from having a playmaker in the secondary that can create turnovers and can be counted on to support the run defense. TCU broke even with turnovers created/lost and had forgettable numbers slowing down opposing ground attacks. Adding a player with a nose for the ball to a young group looking to prove itself this season in the secondary would be a big lift.
More: PurpleMenace.com

TEXAS LONGHORNS
Biggest remaining need: Defensive tackle
Top targets: Marvin Wilson, Damion Daniels, Deiontae Watts, LaBryan Ray, Alec Jackson
Notes: The Longhorns managed to snag two four-star defensive tackles in 2016 and did an even better job adding talent at linebacker. A key to Texas' success with that group is to continue building up the interior of the defensive line. Last season, the Horns simply gave away too much through the middle and finding someone that can consistently push the pocket or find ways to penetrate will be a good start to boosting the efficiency of the rest of the defense.
More: Orangebloods.com

TEXAS TECH RED RAIDERS
Biggest remaining need: Outside linebacker
Top targets: Dimitri Moore, Terrel Bernard, Devodrick Johnson, Tony Jones, Troy Porche
Notes: Tech only returns two of its top six tacklers from last season and as a team, the Red Raiders were not a particularly successful pass-rushing defense. The dream scenario would be to find weakside linebacker that can cover as well as he pursues the quarterback… and while we're at it, someone that is vocal and persuasive enough to lure more defensive prospects to a class whose only news to speak of so far this year has come on offense.
More: RedRaiderSports.com

WEST VIRGINIA MOUNTAINEERS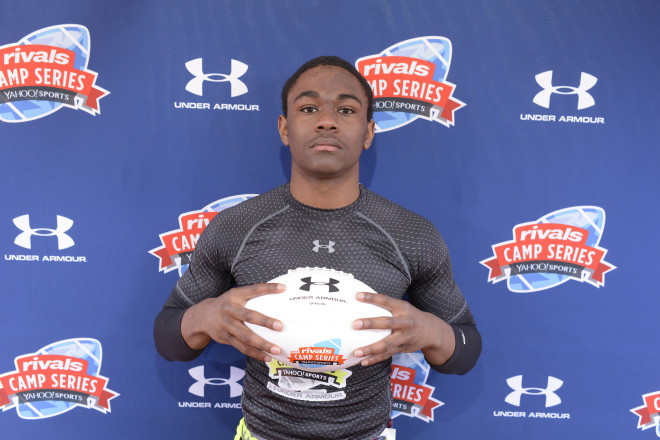 Biggest remaining need: Cornerback
Top targets: Amir Riep, Donovan Johnson, Michael Lee, Raheme Fuller, DeAmonte King
Notes: West Virginia was one of the better FBS teams last season in picking off passes, but they don't return any players that made more than one interception last season. The Mountaineers can replace the bodies that are leaving at the end of this season at the position with those signed in 2016, but will they find a special player at the position in that group? Furthermore, they don't exactly have a stable of players to choose from, so adding depth at the position is also a priority.
More: WVSports.com