Betiku talks some favorites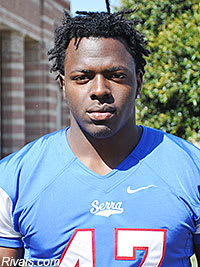 Oluwole Betiku has narrowed his college choices to six and there have been two programs that have most consistently recruited him from the start -
UCLA
and
Penn State
.
Florida, Florida State, Notre Dame and Texas A&M also made the cut for the four-star defensive end from Gardena (Calif.) Serra but the Bruins and Nittany Lions have been involved the longest and he talked about both at the B2G Elite Camp last weekend.
"The program is building up again," Betiku said of Penn State. "There will definitely be playing time and they're looking for 2016 players. They're coming off sanctions so that's the message to me that I could come and make something big happen and build the program back to glory and they have fans that will support you."
Former Nittany Lions standout LaVar Arrington is Betiku's guardian so that might play a factor as well as his recruitment continues.
"LaVar tells me a lot but LaVar played during Joe Paterno's time," Betiku said. "I still need to find out more about it and see what's going on there, talk to a few players when I visit."
UCLA might have an edge in Betiku's recruitment for a few reasons. The four-star has developed a strong relationship with assistant coach Angus McClure, new defensive coordinator Tom Bradley coached Arrington at Penn State and staying in California could be a draw for the Serra recruit.
"I talk to Angus McClure and he's been there for years," Betiku said. "Me and Angus we're like buddies right now. We've been talking since I came to California.
"The first day I came I went up there with Rasheem (Green) and Angus met me and said I look like Owa (Odighizuwa) and since then we've been talking back and forth. He's been one of the coaches who have been most consistent with recruiting me."
As for a decision, Betiku said he would like to make a commitment before the season but wants to take visits as well. If he cannot take trips this summer, the four-star said he could wait on a pledge.
"I really want to get something done before the season but that's if my guardian is paying for trips," Betiku said. "If not, I can schedule officials."