Bentleys favorites based on style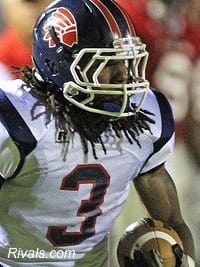 A 6-foot-5 wide receiver at one of the South's most prominent junior colleges,
Jarvis Bentley
has plenty of early recruiting interest to wade through. The Itawamba (Miss.) Community College standout has the size to compete at the BCS level and the athleticism to go with it. He has nine scholarship offers.
He also has a list of favorites.
He knows one of those schools looks out of place. But while Troy isn't a traditional powerhouse in one of football's major conferences, he says there's plenty to like about the program. According to Bentley, this is anything but a courtesy mention.
"They have a great coaching staff," Bentley said. "They're all good guys. I feel that Troy could be a school that could give me an opportunity to make it to the next level."
That said, the two larger schools are certainly in play. History dictates that Kentucky and Missouri are more likely to land the wideout's signature on a national letter of intent. Bentley may have to wait until during the season to plan a visit to either, but he's done plenty of thinking about both.
The major selling point for each has to do with the offensive philosophy. Bentley's outlook is a junior college talking point as old as time.
"Missouri runs spread and they toss the ball around a lot," he said. "I like that. Playing at Missouri could get me a lot of exposure in that offense and I could catch a lot of balls."
The words aren't much different when he begins to explain his affinity for Kentucky.
"That new coaching staff at Kentucky is also going to the spread," Bentley said. "I feel that's another program where I could shine catching balls in an offense that throws the ball. It's not just me, though. With Kentucky and the spread, the defenses can't just key on one guy, or worry about one guy, so it will get everyone more opportunities."
For now, Bentley's frontrunners are limited to three. He says that could change in an instant, though. New interest continues to roll in, and he won't rule out any school for the time being. Bentley's offer list is poised to grow, and his recruitment is poised to morph.
Bentley will take his official visits this fall and plans to make a verbal commitment before the conclusion of the upcoming season.