Barnett back from surprise Oregon visit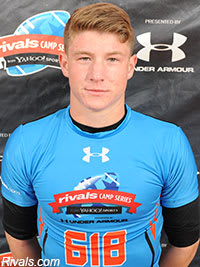 Blake Barnett
just made a humdrum recruiting process dramatic and interesting again. For Notre Dame fans, it's time to take an antacid. For Oregon fans, hope springs eternal.
The four-star quarterback from Corona (Calif.) Santiago who has been committed to Notre Dame since November took an unexpected unofficial visit to Oregon - long a suitor - and just returned Tuesday afternoon.
According to sources, Notre Dame coaches were aware of the Oregon visit.
He has not de-committed from Notre Dame or pledged to the Ducks but the threat seems real especially since Barnett is a prototypical dual-threat quarterback who has been lauded even more for his running ability than his passing, which he's also proven is a considerable strength.
Barnett was one of the top quarterbacks at the RCS Southern California in March and once again at the Air Strike Passing Tournament in Dana Point, Calif., on Saturday where he did not mention the trip to Oregon. He's been a standout performer at other events this off-season as well.
The Ducks have been pursuing Barnett for many months and the four-star quarterback who will be at the Rivals100 Five-Star Challenge this weekend in Baltimore said he wanted to visit to check out everything Oregon has to offer.
"I just wanted to give myself an opportunity to check out another school that I've been interested in for a while now and make sure I made the right decision with Notre Dame and just in fairness to the recruiting process explore my options and check it out," Barnett said.
"I went and toured all the facilities and the campus. The coaches just let me know they're thrilled to have me up there and they think I fit in very well in their offense."
Barnett said the main appeal at Oregon is not necessarily the offense, even though it's widely accepted his skill set is a fit for a running quarterback. Since he was younger, the Corona Santiago standout said he's been intrigued by the school and he wanted to take a visit to see everything for himself.
"I've always been a big fan of Oregon," Barnett said. "As I grew up I was always interested in them and I wanted to go see the facilities and meet the coaches.
"I've talked to the coaches several times since I've been committed. I wanted to get the overall aspect of the university itself - the academic program, the campus, just get a sense on how they do things down there."
Rivals.com rates Barnett as the third-best dual-threat quarterback and the No. 55 prospect in the 2015 class. He is the highest-rated recruit in Notre Dame's recruiting class and if he happens to change commitments to Oregon he would be the top prospect in the Ducks' class as well.