Baham turns heads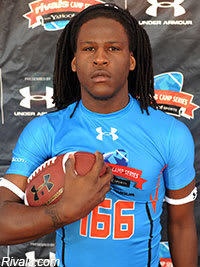 At 5-foot-11, 180-pounds, Baham spent his junior season at quarterback. Before quarterback he worked at wide receiver. He has size, he has athleticism, and he has a high football IQ. All of those attributes combine to make him one of the more intrguing prospects in Louisiana.
He is open to all possibilities, but he does admit he likes the idea of staying on the offensive side of the ball.
"I like the offensive side better because I feel better playing receiver because I've played that some during my high school time," Baham said.
He also likes the skillset he brings to the wide receiver position.
"My speed," Baham said. "I have the ability to get open quicker than other receivers because I have the speed and the technique to beat cornerbacks. And I get into open space for the quarterback to place the ball and they don't have to place it in a tight window."
One aspect of the visit stood above the rest.
"The stadium and how loud it was," Baham said. "We got to the stadium and we walked on the field and they had the highlights playing and the stereo was playing. It was loud, very loud. I could see how when I'm on the field and the fans are there it would build the momentum and you'll be able to make that big play on the field."
For his next visit, Baham will be staying even closer to home.
"This Saturday I'll be at Tulane to watch their scrimmage a little bit," Baham said. "I've been invited to Southern Miss, Louisiana Tech, Arkansas, and Tennessee. I really don't believe I'll be able to make them with track season going on and the Rivals camp coming up."
Baham plans to attend the Rivals Speed and Skill Camp in Houston on March 28 and he is running the 4x100, the 4x200, and 100m for John Ehret's track team.