Ask Mike: Tennessee losing ground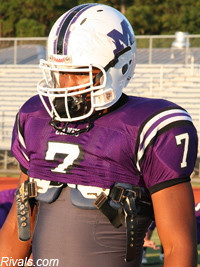 Has Tennessee gone three-star crazy?
How much defense is Michigan landing?
Can Ohio State land Jadeveon Clowney?
These questions and more are addressed by National Recruiting Analyst Mike Farrell in this week's mailbag.
Tennessee needs to rally
- Jim in Rogersville, Tenn.
I always have high expectations for Tennessee in recruiting. I still think the Vols should have more than just four four-star recruits out of 18 at this stage. They clearly need to close strong and Arnett is a great start. Otherwise they will find themselves outside the SEC's top six in recruiting for the first time since 2008 when they finished well outside the top 25.
Getting defensive
I was curious what your views on Michigan's defensive recruiting this year are?
- Nate from Cary, N.C.
Buckeyes clowning around?
- Ben from Twinsburg, Ohio
LSU pushes for No. 1
Will the LSU victory over Alabama help with any of the undecided recruits?
- Trey from New Orleans, La.
It certainly won't hurt. Alabama has become what Florida was recently and what USC was a few years ago: Your program gets a ton of attention if it beats them.
With all the in-state talent in Louisiana we knew this was going to be a big recruiting year for LSU, but now it has a chance to steal a few big names from other states and push for No. 1.
Pack is not back
What is going on with the recruiting situation at N.C. State? Are we just having a hard time or are we targeting the big names and it's taking awhile?
- Michael from Raleigh, N.C.
I still think the Pack will swipe a few committed players and finish outside of the ACC basement, but it doesn't look like it's shaping up to be a very good recruiting year and certainly nothing like last year.
Irish need to close strong
- Terry from Montgomery, Ala.
These will be impact guys in South Bend but others could be classified as reaches. The class didn't start off that strongly and it took awhile for the staff to hit its stride. The way Notre Dame finishes this class will be key. The loss to Navy was harmful, the play-calling at the end of the Tulsa game has been questioned by many and I think the Irish need a couple of big wins down the stretch to close on all the guys they want.
Florida State's future
- Kyle from Orlando, Fla.
Grant and Michigan State
- Chad from Detroit
[rl]