Ask Farrell: Where will JT Daniels land?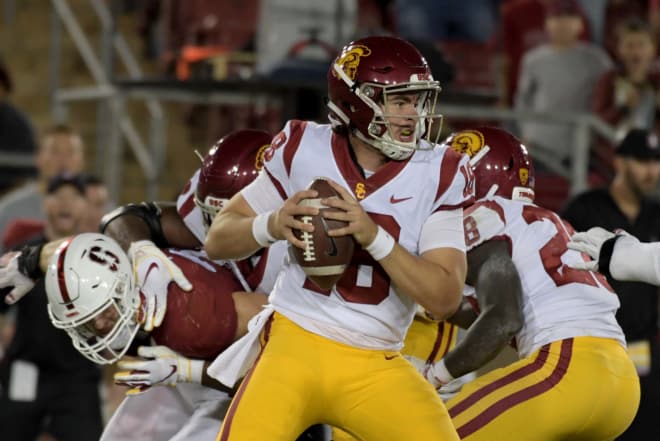 JT Daniels was a five-star prospect and the third-best quarterback in the 2018 class, a group led by Clemson's Trevor Lawrence and Ohio State's Justin Fields, who transferred there from Georgia.
The Santa Ana (Calif.) Mater Dei quarterback had already written his story. A high school star at arguably the best program in the country, Daniels signed with USC like so many other top quarterbacks before him. He was going to have an outstanding career for the Trojans, be the face of the high-profile program, and then be off to NFL glory.
That was the plan.
The reality was that he slogged through a freshman season – and learned lessons along the way – where he completed fewer than 60 percent of his passes for 2,672 yards with 14 touchdowns and 10 interceptions.
Being thrown to the wolves as a freshman and struggling at times is nothing new for young quarterbacks. So Daniels came back for his sophomore year and in the opener last season against Fresno State, he injured his knee. Out for the season, Kedon Slovis came in relief and had an unbelievably strong year and is now expected to be the Trojans' starter.
This week, Daniels entered the transfer portal. Bust? Too early to tell. Especially with so many phenomenal quarterbacks recently taking that route to future stardom at their second school.
The last three Heisman Trophy winners – Baker Mayfield, Kyler Murray and Joe Burrow – were all transfer quarterbacks, and No. 1 picks in the NFL Draft if the Bengals take Burrow in that spot next week as expected. Fields could make it four straight Heisman winners who were transfer QBs this season.
Sure, there are plenty of highly rated quarterbacks that have never panned out. But many others just needed a second home, a fresh start, and a more favorable offense to get going.
We ask Rivals National Recruiting Director Mike Farrell which camp he believes Daniels will fall into and to name some programs that might be the perfect fit for him.
ASK FARRELL
"There are plenty of terrific options out there where he can shine. Michigan, Tennessee, LSU, Washington, Notre Dame and others are all schools that could use some immediate help, recruited him hard out of high school or both. A pro style offense fits his skillset the best. It's hard to guess right now but I could see him winding up in a Tennessee uniform. And if he's eligible immediately he could make a huge impact."