Ask Farrell: What do you make of the ACC's NFL Combine numbers?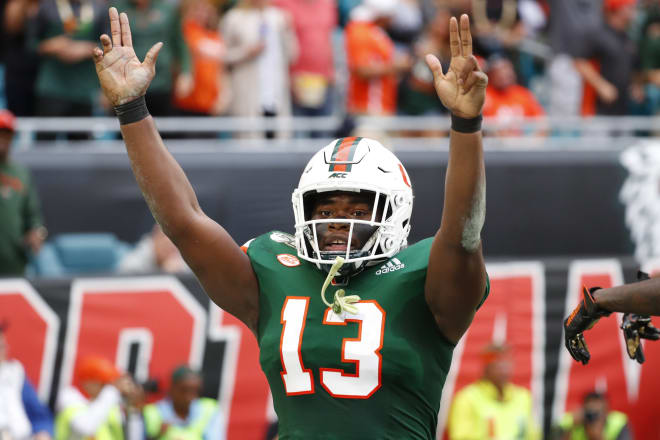 The NFL Scouting Combine is right around the corner, starting later this month, and the ACC will be well-represented in Indianapolis.
There is one major surprise, though, and it's that Clemson will not be sending the most players from the conference.
The Tigers have absolutely dominated the ACC in recent years, separated themselves from all other competitors and clearly set themselves up as the lone national power right now among all the conference teams.
But it's Miami who will be sending eight players to the combine while Clemson sends seven. The Hurricanes got invites for running back DeeJay Dallas, receivers K.J. Osborn and Jeff Thomas, defensive linemen Jonathan Garvin and Trevon Hill, linebackers Mike Pinckney and Shaquille Quarterman and defensive back Trajan Bandy.
That is both equally impressive and troubling because with all that veteran talent on the team, Miami still went a disappointing 6-7 in coach Manny Diaz's first season, losing its final three to FIU, Duke and getting shutout in the bowl game, 14-0, by Louisiana Tech.
Around the conference, some other interesting storylines heading into the combine: Florida State had only two invitees in running back Cam Akers and defensive back Stanford Samuels. That's as many as Maryland, North Carolina and NC State and fewer than Syracuse, Virginia and Wake Forest.
For a program that has been a national power in recent years but that has precipitously dropped off, first-year coach Mike Norvell might have a significant rebuild ahead.
Boston College (RB AJ Dillon), Louisville (OL Mekhi Becton), Pittsburgh (DB Dane Jackson) and surprisingly Virginia Tech (TE Dalton Keene) are sending one player each. Duke and Georgia Tech has nobody going to the combine.
In today's Ask Farrell, we ask National Recruiting Director Mike Farrell a few things: Is he surprised that Miami leads the way with invites, and what concerns does it raise that even with that much talent the Hurricanes finished with a losing record; and is he surprised that Florida State only has two players headed to the combine or have the Seminoles fallen off that much?
FARRELL'S TAKE
"It's very surprising to see Miami have so many invites and it's certainly a big issue when you look at the product on the field. Miami always does a good job of developing NFL talent, but that usually comes with winning and last year's team was just awful. This means that Diaz, and before him Mark Richt, weren't getting the best out of their players.
"However, kids care about going to the league, so the high number will be good for the program's recruiting efforts at least. As for Florida State, it's really surprising to see such a low number especially with so many highly-rated players on the roster. That's certainly not a good sign and won't help make selling the Seminoles any easier.