Ask Farrell: Is Trevor Lawrence in a sophomore slump?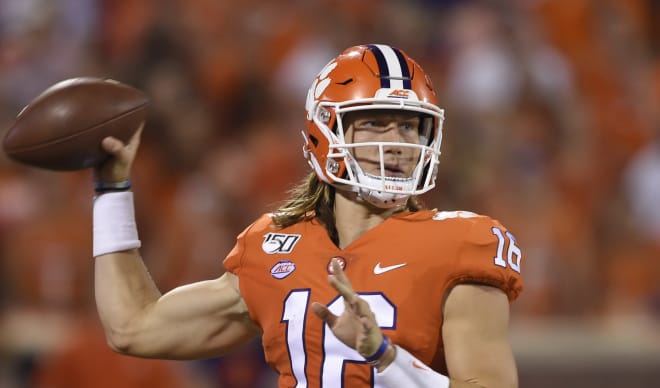 Clemson has dominated in its first three wins over Georgia Tech, Texas A&M and Syracuse but quarterback Trevor Lawrence has not looked like the greatest quarterback of this generation.
Far from it.
The former No. 1 overall prospect in the 2018 class who some said would be ready for the NFL if he could've left college after his freshman season has some not-so-impressive stats through three wins.
Lawrence is No. 20 overall in passing yards. He's tied for No. 30 overall in passing touchdowns. Only Hawaii's Cole McDonald has more interceptions (8) than Lawrence, who is tied with Texas State's Gresch Jensen with five.
In Clemson's three wins, Lawrence has thrown five touchdown passes but also five interceptions.
LSU's Joe Burrow has 11 touchdowns to two picks; Alabama's Tua Tagovailoa has 12 TDs and no interceptions; Texas' Sam Ehlinger has 11 touchdowns and no picks; Oklahoma's Jalen Hurts is at nine TDs and no picks with four rushing scores; Oregon's Justin Herbert has 11 touchdown passes and no INTs.
We ask Rivals National Recruiting Director Mike Farrell whether Lawrence his thoughts on Lawrence and the sophomore slump that tends to exist among second-year stars.
FARRELL'S TAKE
"I have zero concerns when it comes to Lawrence although I don't think the schedule has anything to do with his rough start. Texas A&M is a solid team but Georgia Tech and Syracuse are awful and with all the weapons he has he should certainly be putting up better numbers.
"So why am I not worried? Because Lawrence is a generational talent who will quickly figure things out and will actually learn and grow from the adversity. This is a kid with a great work ethic who studies film like crazy so he's going to see these mistakes he's making and adjust to make his game even stronger.
"It's put him behind the eight-ball when it comes to the Heisman race and all of that but he doesn't care and neither does the NFL. As long as he's winning he's happy and if he were able to come out this year to the NFL Draft, he'd be the first pick without question. Those who think this is a sophomore slump will quickly be silenced."