Ask Farrell: How did Rivals miss with Justin Jefferson's ranking?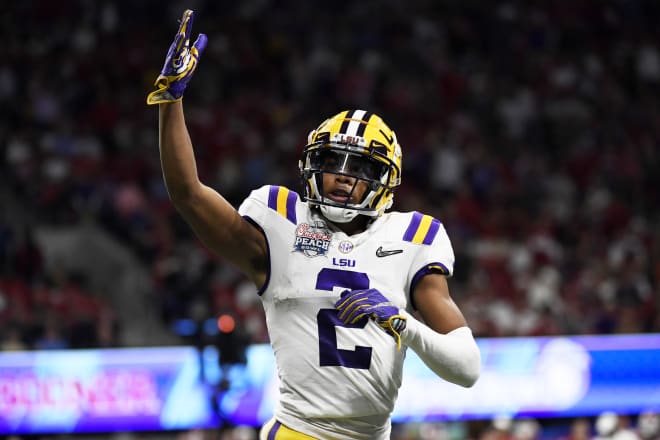 There is a good possibility Justin Jefferson could be a first-round pick at the NFL Draft later this week, especially after the season he just delivered at LSU.
The former Destrehan, La., star caught 111 passes for 1,540 yards and 18 touchdowns and only teammate Ja'Marr Chase had more TD receptions nationally.
After a phenomenal two-year run in the Tigers' offense, Jefferson decided to leave early and he turned in a strong performance at the NFL Scouting Combine by running 4.43 seconds in the 40-yard dash and posting other strong testing numbers. His 40 time was the most important number of the day according to NFL Network's Daniel Jeremiah.
This is an incredibly strong and deep receiving draft class with Alabama's Jerry Jeudy and Henry Ruggs and Oklahoma's CeeDee Lamb leading the way. But Jefferson is also right in that conversation and could sneak into the back half of the first round.
But his high school ranking was a big miss.
A two-star prospect in high school with a 5.2 ranking, the lowest designation possible at Rivals, Jefferson had some academic questions and he didn't even join LSU's team until the summer after National Signing Day.
His only other offer came from Nicholls State but Texas, Oklahoma State, Memphis and others were showing interest along the way.
However, Jefferson did attend the Rivals Camp Series and he was at other events during the evaluation process. He's also the third Jefferson brother to play for the Tigers as Jordan and Rickey also played in Baton Rouge.
We ask Rivals National Recruiting Director Mike Farrell for his thoughts on Jefferson and why his ranking was so low.

FARRELL'S TAKE
"It wasn't just academics with Jefferson it was about a lack of great speed at the time and separation. However, a low two-star was way too low and that's a huge miss. He wasn't a take for anyone and LSU went on him late but his skill level probably should have been in the mid-three-star range.
"He was someone we didn't expect to be a part of any FBS class that year and someone perhaps we'd re-rank as a JUCO. Now he could be a first-rounder. He's developed very well and has gone from a 4.8 kid to a sub 4.5. Impressive."