Ashcraft announces his decision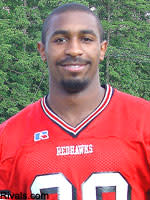 Perhaps there was a tendency to overlook running back
Albert Ashcraft
this year, with three other top running backs also calling North Carolina home. That didn't stop coaches from recruiting him hard and extending scholarship offers.
The 6-foot-3, 195-pound running back/athlete from Monroe, N.C. has decided to announce his college destination. Who is the lucky school?
"I'm going to be a Gamecock," said an excited Ashcraft. "I'm glad to finally make this decision and have it all over with. I'm confident this is the right decision, and I'm looking forward to going to school at South Carolina next year."
Ascraft, also a track star that has gained state-wide recognition, had offers from ACC schools such as Clemson, Wake Forest and North Carolina, but decided that his bonds formed with the South Carolina coaches and players were too important to forget.
"I've gotten along so well with everyone at South Carolina, from Coach Holtz to all the other coaches and players. There's a great football environment there, and now I can play in the best conference in the country. This is like a dream come true, just to have this opportunity."
Ashcraft is rated the No. 17 player in the state of North Carolina, and is the No. 43 running back nationally.